DIY Vinyl Record Turntable Cake

attosa
Diamond Post Medal for All Time! 1,246 Posts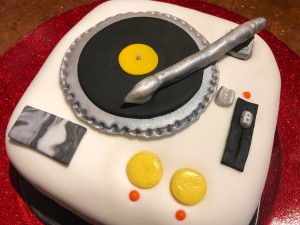 I'm not a professional baker or cake decorator, but I do love making personalized desserts for my friends and family. I made this cake for my band bassist who adores collecting vinyl records (and playing them on his turntable all day). I've made it so the tonearm can be moved on and off the record, while staying 100% edible.
I used my recipe for a standard dense cake where I used one less egg, added some applesauce, and 1/4 cup melted chocolate chips. This makes for a good stable cake to decorate. You can use a box cake mix and use egg yolks instead of whole eggs, and add milk instead of water.
Total Time: 3 hours
Yield: 1 very fun cake!
Source: My crazy head ;)
Link: Video of this cake in action!
Supplies:
cake batter for 1 cake
square cake pan (I used a 7" springform)
serrated knife
1 1/2 cup chocolate chips
10 ounces buttercream frosting
spatula
butter knife
1 lb white fondant
rolling pin
kitchen scissors
dessert ring cutters (various sizes)
chopstick
silver cake spray
1/4 lb black fondant
1/8 lb yellow fondant
2 Pocky sticks
2 Starburst candies
3 orange sugar pearls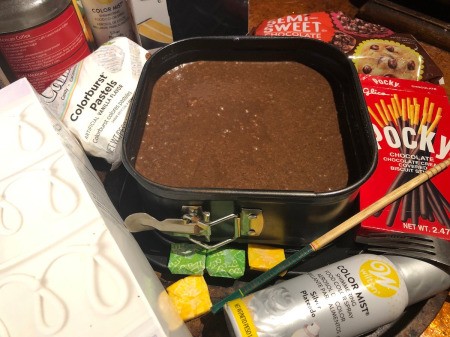 Steps:
Bake cake in a square pan and allow it to cool. Use your serrated knife to cut off the top so it's even.

Melt chocolate chips in the microwave on high at 30 second increments, stirring each time, until completely melted and smooth.

Add 6 ounces of buttercream frosting to melted chocolate and stir until smooth.

Frost the top and sides of the cake evenly. Make sure there are no bumps.

Knead your white fondant for about 5 minutes to make it smooth and pliable.

Measure your cake's surface and sides to figure out how big your rolled out fondant should be. Roll it out to those dimensions at about 1/8" thickness.

Add a little bit of buttercream frosting on the iced cake. This will act as both a glue for the fondant and a filler for uneven cake areas.

Drape the rolled fondant on top of the cake and press into the sides and corners, pulling downwards. Cut off the excess with scissors and set aside to use for the decoration details.

Smooth out any bubbles, then slice the fondant off neatly with a sharp knife at the bottom of the cake.

To make the turntable platter, roll out some of the white fondant to 1/4" thickness. Use large ring cutter to cut out a circle.

Use the tip of a round chopstick to make imprints around the platter, then spray paint it with the silver cake spray and allow to dry completely.

Knead the black fondant then roll it out to 1/8" thickness. Use a smaller ring to cut out the vinyl record.

Using some buttercream as glue, attach the platter to the top left of the cake.

Then "glue" on the vinyl record.

Knead some yellow fondant and roll out to 1/8" thickness. Cut out an even smaller circle. "Glue" to the vinyl record.

To make the tonearm, place a Pocky stick on some rolled out fondant.

Wrap the Pocky in fondant and shape into tonearm. Give it a head and a needle shape using your fingers and tip of chopstick.

Spray one of the Starburst candies with the silver cake spray and allow to dry. Press into top right of cake, then press chopstick into the middle to make a little hole.

Cut off the bottom of the other Pocky stick and place inside the hole.

Now place a small ball of black fondant over the Pocky joint, then press the end of the tonearm onto the black fondant.

Rest the needle on the record for now. We will make a tonearm holder shortly so it can go back and forth as you please.

To make EQ knobs, use the small ring cutter to cut circles out of the other 2 Starburst candies. Press into bottom right of cake.

Add details like pitch control and a tonearm holder using leftover fondant.

Use a sharp skewer to poke holes under knobs and above pitch control slider.

Drop in little orange sugar balls. These are your lights!

To make a brand placard (where I put the birthday boy's candle), work together some black and white fondant and twist so it looks like marble.

Roll it out to about 1/4" thickness then cut out a rectangle. Use buttercream to glue onto bottom left of cake.
Comments
Read More

Comments
Categories
Pages
More
Categories
Published by ThriftyFun.
© 1997-2022 by Cumuli, Inc. All Rights Reserved.
https://www.thriftyfun.com/DIY-Turntable-Cake.html