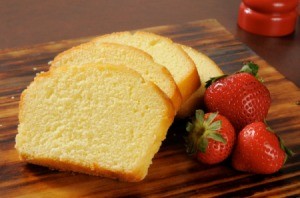 It is very close to the old fashioned pound cakes, but doesn't take as long. Stays moist for several days, if it's not eaten before then.
Ingredients
1 (18.25-ounce) box Duncan Hines all butter cake mix *
4 large eggs
3/4 cup vegetable oil
1/2 cup granulated sugar
8 ounces (1 cup) sour cream
1 teaspoon vanilla extract
Directions
All ingredients should be at room temperature. Preheat oven to 350 degrees F (175 degrees C). Combine cake mix, oil, sour cream and sugar. Add eggs one at a time until thoroughly mixed. Stir in vanilla. Spray (or grease) Bundt pan and sugar coat the inside of pan (this creates the crisp crust found on the old fashioned pound cakes). Pour batter into prepared pan and bake for approximately 45 minutes or until cake test is done.
Serves 12.
TIP: Instead of vanilla, experiment! I have used lemon or orange or raspberry. I'll try another flavor next time!
By Donna Rae from Elkhorn, Wi.
Read More

Comments

How can I make a pound cake out of ordinary cake mix in a box?
By Marilyn L.

Answers

October 6, 2011
5

found this helpful
Best Answer
1 box box of Duncan Hines most deluxe classic yellow cake mix
1 package (4 serving) vanilla instant pudding mix.
4 large eggs
1 cup water
1/3 cup vegetable oil
Pre heat oven 350 degrees, grease & flour a 10 inch bundt pan, combine cake mix & pudding mix, eggs, water & oil. Beat with mixer at med speed for 2 minutes. (I add a little coconut to the batter) pour in pan and bake 50-60 minutes or until toothpick comes out clean cool completely. Invert onto plate. My family has been making this cake for about 50 years. It's great.
Answer

this Question

Can I use self rising flour when it calls for all purpose flour when making a diur cream pound cake from a box cake mix?
Answers

February 7, 2019
0

found this helpful
If you eliminate the baking powder, since the self rising flour already has it.

February 8, 2019
0

found this helpful
if you take out the baking powder then it will work

February 8, 2019
0

found this helpful
Hi,
If your non-sel- rising-flour-recipe calls for 1/2 to 1 tsp of baking powder , per cup of regular flour used in the recipe, then you can use self rising flour in that recipe. The amount of baking soda equals out in that case.
Blessings,
Robyn

February 11, 2019
0

found this helpful
You will find this is a controversial subject among bakers but most true bakers will say to not do this as the flour is not processed the same and just removing baking soda will not correct it.
I believe you should also eliminate the salt if you are going to try this.
Here is a link to what a university test kitchen has to say about usinf one in place of the other.
www.canr.msu.edu/.../know_the_difference_between_all-purpose_and_self...
Answer

this Question

When making the pound cake, can a regular pound cake pan be used or must it be a tube pan?
Answers

April 28, 2019
0

found this helpful
Hi,
I would use an angel food cake pan or a tube pan for the pound cake. I would not use a bundt pan for the pound cake.
Blessings,
---Robyn

April 29, 2019
0

found this helpful
Yes, I think it will be fine.

attosa
Diamond Post Medal for All Time! 1,246 Posts
April 29, 2019
0

found this helpful
Does not have to be the tube. Good luck!

March 19, 2020
1

found this helpful
Ive always used a bunt cake pan when I make my pound cakes and they always come out very good and delicious!!
Answer

this Question

If I have a pound cake box mix, what can I add to make it moist?
By carolyn from Aurora, IL

Answers

March 31, 2010
0

found this helpful
EasyInstructionsThings You'll Need:
1 box Betty Crocker Golden Vanilla or French Vanilla cake mix
1 box Betty Crocker 16oz pound cake mix
5 large eggs + 1 egg white
1 stick solid margarine
extra solid margarine
1 3/4 cups water
Spray cooking oil
Step 1I use certain brands of cake mixes to obtain an unique flavor that I prefer. You can use other brands of cake mixes that are available in your area.
Step 2In a bowl or measuring cup:
Melt 1/2 cup solid margarine
Add 1 3/4 cups cold water
Allow to cool to at least barely warm
Step 3
...Pour cake mixes into a large bowl.
.....Add the cooled margarine and water mixture.
Beat on high 2 minutes.
..Be sure to scrape sides and bottom of bowl while mixing.
Step 4
.....Add 5 eggs and 1 egg white.
Beat on high 2 minutes or until well blended.
Step 5Pour into prepared pans.
Bake at 350 degrees until knife or toothpick insert into center comes out clean.
After baking is completed, remove from oven and cool.
good luck.

December 27, 2018
0

found this helpful
So the only way to make boxed pre-packaged pound cake mix come out moister is a box regular cake mix along with the other ingredients? Is there any way to do it just using the 16 oz boxed pound cake mix?

Jess
Silver Post Medal for All Time! 267 Posts
December 28, 2018
0

found this helpful
If you make the mix according to package directions, it will be the regular cake consistency. If you want it moister, you will have to add ingredients.
You could try undercooking it but that is risky.
January 22, 2019
0

found this helpful
I use milk instead of water, it's nice and moist.
Answer

this Question

How can I make a cake mix chocolate pound cake?
Answers

July 5, 2019
0

found this helpful
This one uses boxed cake mix and pudding mix. www.tasteofhome.com/.../

July 8, 2019
0

found this helpful
There are lots of recipes on the Internet but most use about the same ingredients.
Remember: If you plan to add pudding to the mix - do not buy cake mix that says 'pudding in the mix'. I should say - that is my opinion.
This one sounds good but new to me.
This one I have made several times and it is always nice.
Answer

this Question