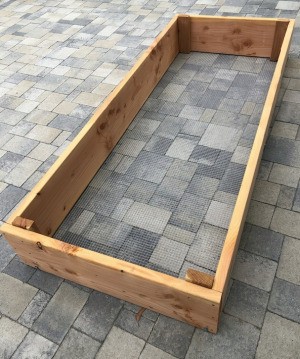 We would love to have a garden in our backyard, but supposedly there are gophers. We decided on having a raised garden bed and after looking at the costs of already built raised garden beds and ready to purchase and install yourself garden beds, they were definitely out of our budget!
If you are planning to make a raised garden bed, take a trip to your local home improvement store, you can browse the wood selection and take down the measurements and then draw a layout while in the store or at home. Your project will cost less than purchasing a raised garden bed. Also, you can save even more money if you have any home improvement coupons.
What wood should you use? Use wood that is untreated. What type of wood can you use? Good choices are redwood, cedar, or Douglas fir.
The cheapest and most affordable option would be Douglas fir (which we went with). Douglas fir still has great qualities, resistance to rot and insects, and should last at least 5 years+. If you're willing to, you can spend more on cedar or redwood, but we figured since this is our first time building a raised garden bed, we'll try the Douglas fir out!
Tip: Select home improvement stores may have a clearance section where there is a slight defect to the wood, return, or cut up wood extras for a discount! I actually found the large piece at 85% making this project a steal deal!