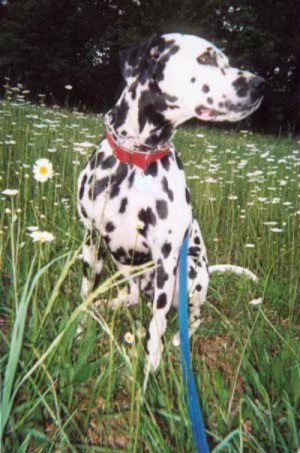 Breed Description:
Easy to recognize with their bold spotted coats, this is a muscular and athletic breed with a quiet, patient demeanor. The Dalmatian's courage and alertness makes it suitable for work both as a guide dog and a guard dog.
Group: Non-Sporting group
Purpose of Breed: Carriage dog
Country of Origin: Dalmatia, a region in Croatia
Average Size: Male Dalmatians range from 20-24 inches and weight between 50 to 60 pounds.
Color(s): White with either black or liver spots.
Coat Type: Dalmatians have a short, fine coat that is smooth, dense, and lustrous.
Grooming: The Dalmatian's coat requires minimal care and needs brushing only once or twice per week. This breed requires standard care for eyes, ears, pads, and nails.
Exercise Needs: Dalmatians are highly energetic and should have a fenced yard. They need substantial amounts of exercise to maintain their mental and physical health. This is a good breed for runners and joggers.
Temperament: Dalmatians are sensitive and loyal and possess a great deal of gentleness and patience - traits that make them good guide dogs. They tend to bond very closely with their owner and enjoy the company of children. Early socialization and obedience training is recommended to prevent behavior problems and help dogs develop into well-adjusted individuals. They are naturally suspicious of strangers and make courageous guard dogs.
Common Ailments: Susceptible to inheriting deafness, prone to urinary stones, and skin allergies.
Life Expectancy: Averages 11-13 years.
Trivia: Dalmatian puppies are born without spots. The breed is famous for being associated with fire houses and are often featured in older ads riding alongside firemen on the fire trucks. They were also featured in the 1959 Walk Disney film, "101 Dalmatians."
More Information: Dalmatian Club of America, Inc.