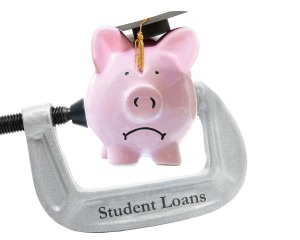 I have around $80,000 of unpaid student loans, in default. Can I be sent to jail for not paying this amount? How many years in jail for such action? I made some payments, but due to life difficulties I didn't make any more. Are there any other options to repay these loans? Please help me, I'm desperate. Thanks!
Tucker5 from Baltimore, MD
Answers

March 4, 2009
0

found this helpful
Do not go to a credit consolidation company for paying off student loans! There are so many of them that are absolute scams that you run a high risk of getting into even more trouble with your loans.
If you want to seek credit counseling go to Consumer Credit Counseling Service - it's the only one that can be trusted. Go to the Federal Trade Commission's website - http://www.ftc.gov - for information. Click on the "Consumer Protection" tab.
If you have federal student loans there are all sorts of options to help you get through this rough patch. There is forbearance, deferment, and income-based repayment. Call them today!

(Guest)
Gold Post Medal for All Time! 846 Posts
March 5, 2009
0

found this helpful
I am seconding lah34a's post !!!
As far as your question about jail, well, it's a safe bet you won't but definitely read the following link and it's sub links regarding 'debtors prison' ...

Janette
Bronze Tip Medal for All Time! 86 Tips
March 5, 2009
0

found this helpful
They will find you no matter how long it takes. They will garnish your wages and even collect on any income tax refund you may have coming to you. I would suggest contacting them. My daughter knows of a website where they combined all her student loans into one payment. It makes it much easier for her to repay. Hope this helps.

March 25, 2009
0

found this helpful
Hey there, sorry to hear about your problems :( Foolishly I used student loan money to pay off credit cards.. I am in a MUCH better place now but still in school and waiting for that bill to come due next year!
I currently work in education and what I can tell you is that the lender likes to see ANY amount of money paid. Even if you can afford $5/month it will show that you are making payments. Call the lender and explain your situation, MAYBE they can work something out for you but again I think it's wise to pay them SOMETHING.
Good luck.

August 6, 2009
0

found this helpful
I'm sorry for your situation, many of these companies really take advantage on the student's situation and they deserve to be punished for the scams they're involved!!!
I hope by the time you read this message you will have your situation already worked out, but if you don't, my advice is to find legal help.
I've found this website
http://studentloans.com.ar
(a parked domain for sale) where you can read about the unbelievable CPC advertisers pay for "student loans" $12/click!! Draw your own conclusions...
Good luck!
Answer

this Question