Is there a dishwashing powder available that will not etch glassware?

Becky from Lexington, OH
Answers
January 17, 2009
0

found this helpful
Best Answer
I just had my dishwasher repaired 12/08 and the repair man told me to only use Cascade Complete....no lemon and powder only. My dishes look the best they ever have. I used to use generic all the time swearing that it didn't matter. Wrong-o! It has made the world of difference for me.
June 29, 2009
0

found this helpful
Best Answer
The etching isn't from hard water , it's from the dish washing detergent. That stuff is very caustic. The only one that won't etch glass is Cascade. Hard water may stain glass which can be removed,. but it won't etch glass. The attached photo will show you what Members Marks detergent from Sam's Club will do to your glassware.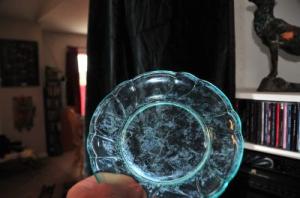 October 3, 2012
0

found this helpful
Best Answer
It seems like there are so many varying opinions on what causes the etching ranging from bartenders to University Extensions.
I think it is a number of factors that cause the etching but I disagree with those who said water isn't part of the problem. I live in an area with a lot of minerals in the water and it builds up not only in the dishwasher and on my glassware but in the sinks and tubs. I have a glass shower surround that has some etching - even though I squeegee it after every shower.
That's why I use inexpensive glassware for day to day use and only use my "nice" glassware on special occasions (which I hand wash). I just replaced my drinking glasses due to etching - they looked like they were dirty and it was very unappealing.
May 12, 2015
0

found this helpful
Best Answer
I have been in the cleaning buissness for 30 years , and each time my clients had the problem of their drinking glasses being etched - like the finish had come off the glasses leaving a white dull finish. I noticed they were all using Cascade.
I myself bought some new soap for my dishwasher and it was Finish Quantam Power Balls. So I tested it out and I could not believe how sparkling clean everything was, the cutlery even looked brand new.
So now my clients all use it, and cannot believe how clean it is and after throwing the old glasses out. The new was are great, and it has been about 8 months and still no ecthing so it must be something in Cascade itself that was doing it.
July 3, 2016
0

found this helpful
Best Answer
I live in Florida and have well water. I've tried different detergents, had a water softener, it quit, then had hard water. Didn't matter. Soft water, hard water, powder, liquid detergent - it all etched my glassware.
I am now trying 1 T. salt, 1 T. baking soda and about 2 T. Dawn dish soap. I also add 1 c. white vinegar before I start the dishwasher. Dishes seem to come out really clean. I can only hope it's working on the etchinghard water stains. Of course if glasses are etched already, nothing will take that off.
November 13, 2018
1

found this helpful
Best Answer
There is one call Starbright by Lanosoft. Expensive but it does not etch glassware in softened water conditions
Read More Answers