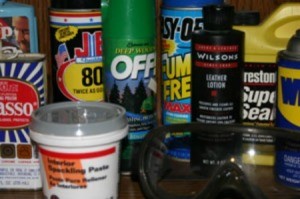 According to the EPA, the average American household produces around 160 pounds of hazardous waste per year. Much of that waste comes from common household products. Many of those products contain dangerous chemicals that when discarded, contribute to environmental contamination-especially of local water supplies. To "clean up" the confusion on how to get rid of those toxic chemicals, here is a handy guide to proper disposal of some common household hazardous wastes.
A note to septic tank users: Certain chemical substances cannot be used with nor disposed of using a septic tank. Read product labels carefully to determine if a product is safe for septic tank disposal.
Key:
The truck symbol indicates that the material is hazardous and should be saved for a community wide collection day or if possible, transported carefully to a hazardous waste collection site as soon as possible.
The trash can symbol indicates that the material is suitable for disposal in a sanitary landfill. Materials should be dried out away from children and pets and placed in the trash for solid waste pick-up.
The toilet symbol indicates that the material should be diluted with lots of water and poured down a sanitary sewer system-not a septic system.
The recycled symbol indicates the material may be recycled and should be taken to a recycling center in your area or passed along to groups or others who may reuse it.
---
Aerosol Cans (Empty)
Aftershave, Perfume
Aluminum Cleaner
Ammonia Based Cleaners
Antifreeze, Automotive Fluids (Brake, Power-Steering, Radiator Flushes)
Auto Waxes, Polishes, Body Fillers, and Road Salts
Barbecue Lighter Fluid
Batteries
Chlorine Bleach
Disinfectants and Drain Cleaners
Fertilizer (Without Weed Killer)
Fertilizer (With Weed Killer)
Fiberglass Epoxy
Floor and Furniture Wax
Fuels (Gasoline, Kerosene, Diesel)
Glass/Windshield Cleaners
Glues
Gun Cleaning Products
Hair Relaxer
Insecticides, Herbicides, Pesticides (Chemical)
Medicine
Metal Cleaners/Polishes
Moth Balls
Motor Oil
Nail Polish (Solidified)
Nail Polish Remover
Oven Cleaners
Paints/Primers, Stains, Strippers, Varnishes, Thinners, Turpentine
Perm Wave Lotion
Rat/Gopher Poison
Rust Remover
Shoe Polish
Spot Remover
Swimming Pool Chemicals
Tires
Toilet Bowl Cleaners
Tub and Tile Cleaners
---
Unless your community has a citywide collection day, whenever possible, avoid "saving up" waste until you have enough chemicals to make the trip to the collection site worth it. It is always worth it to rid you home of toxic chemicals. Remember to wear protective gloves, goggles, and clothing when using or transporting hazardous waste materials.
Keep in mind that for most common household hazardous wastes, a healthy and more environmentally friendly alternative exists. Using safer products can drastically reduce your family's exposure to unhealthy toxins, save you money and protect the environment.