Please help. My little Dachshund/Cocker is chewing herself up. She chews, scratches and licks every part of her body. I went to the vet and she had some fleas on her, so he said she had a flea allergy and charged me $250. Enough of that.
I am a senior and I can't spend that amount on me. She has no fleas now. She has been given a bath with oatmeal shampoo and rinsed with witch hazel. She has to wear a little shirt so she won't itch as much, but now it isn't working. It did last year. She only itches in the Spring, Summer and Fall. In the nicer weather. Please help Cricket.

By carole from Burtchville, MI

Answers:
Dog Itching
If your dog has a flea allergy she doesn't need to have tons of fleas. One or two will throw her into fits of scratching. Advantage isn't terribly expensive and really works. You can also give benadryl to relieve itching (ask the vet how much) but if fleas are the source of the problem that has to be addressed. (06/04/2009)

By Judi
Dog Itching
If your dog is bathed and treated, then try the benadryl. My vet says that most dogs do fine without fancy $35-50 bags of cornless dog food. Dog food companies want us to think that way. I buy my dog food at the feed store. No frills there. My lab has seasonal allergies and benadryl works. I always have to keep him flea free because he reacts strongly to bites and looses hair and gets secondary skin infections. (06/04/2009)
Dog Itching
My son swears by Dawn dish liquid. (06/05/2009)

By Meemaw
Dog Itching
Thank you very much for all the good advice. Cricket thanks you too (06/05/2009)

By carole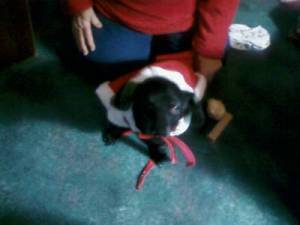 Dog Itching
If the fleas are gone, try a dose of Benadryl. My dad goes through this all the time with his rat terrier. Benadryl is the only thing that stops the itching. The dawn dish liquid is supposed to get rid of fleas. (06/06/2009)
Dog Itching
From one Cricket to another, lol! The Dawn and the Benadryl will work great, just be very careful with the amount of Benadryl you use. I assume these people are talking about the cream. Go as sparingly as possible and work your way up to the amount that works for your Cricket.

Also once every other month for about a week, you should switch to Aloe Vera gel or something. Even with the cream she can build an immunity to the Benadryl and switching for a week will give her system the break it needs to prevent that. I use Benadryl and Aloe Vera gel on my dachshunds all the time though and it works great.
(06/06/2009)

By Cricket
Dog Itching
You have gotten some very good advice. I would only add that it would be nice to put a teaspoon of brewer's yeast in her food once a day. It will help her repel fleas. (06/06/2009)
By Coreen Hart
Dog Itching
When I lived in FL (flea heaven) the vet told me to put a tiny bit of garlic powder in the water (I had 2 cats and 2 chihuahuas) and that any shampoo would kill fleas. The secret is that you have to keep it sudsy for at least 10 minutes. We had to bathe them all (a neat adventure with the cats) quite often. One flea can really bother them if they happen to be allergic and fleas multiply faster than rabbits! (06/06/2009)

By lavonneann
Dog Itching
I agree with the posts that state a teaspoon of oil (vegetable, cod, or fish) added to the dog food every day, infrequent shampooing, and benadryl tablets given on his worse itchy days. You will have to ask the mg per pound for your dog size. Maybe also a new vet, as they charged you so much and didn't solve your dog's problem. (06/06/2009)
Dog Itching
I just took my dog to the vet for the same reason. Each year during the spring she itches and chews on herself and I give her benadryl pills and rub the cream on her and that helps her a lot. But this year seemed a lot worse, so the vet gave her a cortisone shot. She didn't have any fleas, she has seasonal allergies and they will go away as the pollen eases. Usually when I stop sneezing, she stops scratching. I have given her an aspirin on her really bad days because she felt feverish. I had called and got the weight measurements from my Vet as you should do.
I hope this helps, our babies are important to us. (06/06/2009)

By Tina Brown