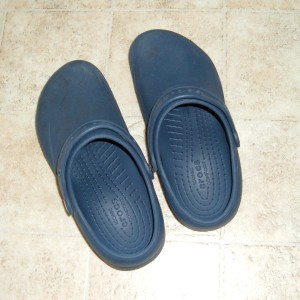 I purchased my first pair of Crocs this year and was really enjoying them especially working out in the garden.
Crocs are made of Croslite which is a comfortable material that shapes itself according to the wearer's feet. I learned to not put my Crocs out in the hot sun for a long time, especially if they are wet.
I had been to the garden and got them muddy. I washed them and made the big mistake of setting them out in the hot sun on the deck and left them all afternoon in 90 degree weather. It warped them and made them a size smaller. I was so upset. I had ruined my Crocs!
I tried several different ways of heating them up and then wearing them while warm to stretch them back in shape. It was not easy and they are still not as comfortable as they were before this happened. I hope over time, they will feel like an old shoe again.
I learned a lesson that day.