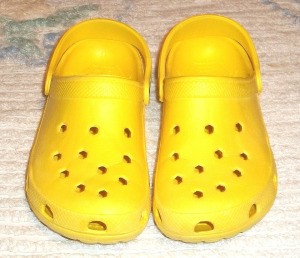 If you wear Croc (plastic) shoes like I do, the best way to clean them is to wear them in the shower every time you take a shower. Then once a week, use a back brush on them with a little soap. They will stay looking new. I have been wearing mine for over 5 years, and they still look like new!
By linda from Beautiful Missouri Ozarks
Comments
June 22, 2011
0

found this helpful
Now that is a nifty idea. I would never have thought to do that!
June 22, 2011
0

found this helpful
This is also a really good idea if you have a slippery shower/bathtub floor and easy enough to slip one shoe off at a time to wash between your toes! ;-)
June 25, 2011
0

found this helpful
Great advice! Also no fear of athletes foot at the gym. Thank you. :D
June 27, 2011
0

found this helpful
I do wear mine in the shower when camping, but at home I just toss them in the washer with other dirty yardwork clothes. I have had the same pair since the year they came out on the market!
I have also discovered that I can wash leather sneakers the same way. Just take out the insoles and wash them in a lingerie bag. A day of drying in the sun and they are like new. I discovered this when I was in water up to my knees and they survived just fine.
Read More Comments