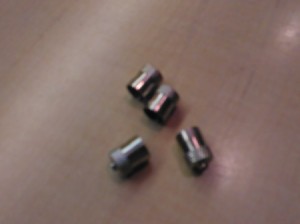 I learned my lesson the hard way. Don't use the metal valve caps on your tires. It can end up costing you a lot of money!
I had a low tire and went to air it up. My valve caps were the fancy metal ones with a chrome finish on the outside. I could not get the valve cap off. So, I drove on my low tire to the tire shop a few blocks away. They also could not get it off. In order to repair my tire (I had a nail in it), they had to force it off, and that damaged the valve stem. With most cars made after 2000, the low tire sensors are in the valve stems. So, that damaged my sensor. I ended up having to get a new tire and new sensor and it was not cheap.
The tire shop told me that they see a lot of metal valve caps that corrode during the winter due to the salt on the roads. When I got home, my husband checked my other tires, and two of those were difficult to get off. The insides of the caps were a green color and had a build up in them. The next day he said something to a mechanic where he works, and the mechanic said that was a common problem with the metal caps, especially during the winter when exposed to salt or other ice melting chemicals on the roadway.