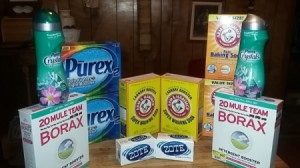 I only now finally went to the website of the Duggar Family, the family from the "20 Kids and Counting" TV show, and found a treasure trove indeed! Below are 2 laundry tips that really impressed me and gave me a wake-up call with the "recipe cost." Approximately $2 per batch! The Fabric Softener Recipe sounds especially wonderful.
Homemade Liquid Laundry Soap
Front or top load machine - best value
4 cups hot tap water
1 Fels-Naptha soap bar
1 cup Arm & Hammer Super Washing Soda
1/2 cup Borax
Directions:
Grate bar of soap and add to saucepan with water. Stir continually over medium-low heat until soap dissolves and is melted. Fill a 5 gallon bucket half full of hot tap water. Add melted soap, washing soda, and Borax. Stir well until all powder is dissolved. Fill bucket to top with more hot water. Stir, cover, and let sit overnight to thicken. Stir and fill a used, clean, laundry soap dispenser half full with soap and then fill rest of way with water. Shake before each use. (will gel).
Optional: You can add 10-15 drops of essential oil per 2 gallons. Add once soap has cooled. Ideas: lavender, rosemary, tea tree oil.
Yield: Liquid soap recipe makes 10 gallons. Top Load Machine- 5/8 cup per load (approximately.180 loads). Front Load Machines- 1/4 cup per load (approximately 640 loads).
Arm & Hammer "Super Washing Soda" - in some stores or may be purchased online here (at Meijer.com). Baking Soda will not work, nor will Arm & Hammer Detergent - It must be sodium carbonate! Recipe cost approx. $2 per batch.
Fabric Softener Tip:
Add vinegar to rinse cycle instead of using fabric softener. Works great. Removes residue and odors. Also helps to keep washing machine and hoses fresh and clean too.
Source: http://www.duggarfamily.com/recipes.html
By Erin813 from Seffner, FL
Comments

January 11, 2011
1

found this helpful
Top Comment
We have been using this recipe for a year now and we love it and that it saves us lots of money. We do add some oxyclean now and then when the clothes are really dirty, we have a 4 yr old.
Read More

Comments
msjodiwms
Bronze Feedback Medal for All Time! 182 Feedbacks
Homemade laundry detergent has saved my family a lot of money. I buy the ingredients about every 6 months.
It is very effective on cleaning clothing, linens, delicates, and even a husband's work clothes!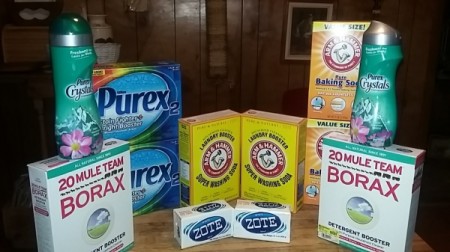 Read More...