I would like to make my own laundry soap. It calls for Fels-Naptha laundry soap, borax, and Arm and Hammer Super Washing Soda. I cannot get the soap and washing soda in my area. Would it be okay to use Sunlight pure soap and just regular Arm and Hammer soda instead?
By Pam
Answers

March 7, 2012
0

found this helpful
Best Answer
Washing soda is very much different than baking soda. The two do not inter-change well, (trust me I know, I tried it the first time I made detergent). However, you can use:
Dawn dish soap (the blue, original kind)
Borax
Washing Soda
Water
Anyhow, what local grocers do you have? I know Wal-mart has these items. However, in my small-town area, the local grocer carries these items all in the laundry aisle, but sometimes if you ask a manager the stores can and will order you these products. It's worth a try! Good Luck!

March 7, 2012
0

found this helpful
Best Answer
Patricia is right, you can't replace baking soda for washing soda, it is very different. You can replace the Nels with Zote Soap, however. It comes in large pink and white bars and is the laundry aisle of many grocery stores. It is very good for hand washables also. It is inexpensive.
As for the washing soda, besides Walmart, you can buy it at Kroger Grocery Stores and is probably available at home improvement types (Ace Hardware, Lowes, Home Depot) stores also, I haven't actually checked on that in a while, though.
Answer

this Question

How do I make laundry soap with Fels Naptha soap?
By Koposhi from Decatur, IL

Answers

August 19, 2010
0

found this helpful
Best Answer
One very important thing to remember about using the Fels Naptha soap is that you should always remove the wrapper from each bar of soap and let it air dry out. Otherwise, you will experience a problem because the soap will be much too soft to grate.
If you are having trouble finding Fels Naptha soap, try a hardware store, which is where I buy my soap.

January 25, 2014
0

found this helpful
Best Answer
The Fels Naptha is in bar form so you can grate it first before putting into the hot water. The first time I made detergent I made the powder form which suggested putting the bar (Ivory in place of when making for gentle washing) in the microwave for, I think a minute or so first. The Ivory bar poofs out about ten times its size (it's really fun to watch). Then I put it into my food processor. It crumbles perfectly!
However, I would NEVER use those recipe directions again because it took months for the smell (and taste, whether physiological or not) to be rid of in the microwave. The next time, I made the liquid (gel) form.
But be safe! You don't want to be doing this unless you can open the windows and turn on any exhaust fans. Even with taking the precautions the smell can be quite strong. I wouldn't suggest little ones (or asthmatics) be around when making it. I would assume this stuff is made in factories with enormous exhausts and safety gear. Fels Naptha
Soap bar is an excellent and very inexpensive staple in my laundry room. It has been for years. It's excellent for pre treating! I see it popping up more and more as there are more and more thrifty seekers out there. Thank you Thrifty Fun!
Answer

this Question

I would like to try the homemade detergent that I have read about on this site, with the ingredients, washing soda, borax, and Fels. What is the amount for each one to do a full load? What is Fels? Thank you for any help.
Answers

September 17, 2017
0

found this helpful
Homemade laundry detergent is popular and there are dozens of sites with instructions available on the Internet.
Basic ingredients may vary with some recipes but mostly stay the same. Some prefer one brand of bar soap over another (Fels is a bar soap and available in stores and over the Internet - similar to Ivory).
Each batch yields approximately 32 ounces (between 32-64 loads based on how many Tbsp used per load). Ingredients - 1 bar (or 4.5 ounces) shaved bar soap (Dr. Bonners, Kirts Castile Soap, Ivory, Zote, or Fels-Naptha) + 1 cup borax + 1 cup washing soda
Directions - Thoroughly stir together for several minutes. You can take this a step further and blend the mixture in a blender or food processor to create a powder that will dissolve easily even in cold water. Store in a sealed container with a small scoop.
To Use: Use 1 Tbsp per small load (or 2-3 Tbsp for large or heavily soiled loads).
Here is a link to full instructions and also a recipe for liquid homemade soap.

April 20, 2018
0

found this helpful
I use the smallest measuring scoop that comes on the ring. I also make my soap a little different now. I find it very easy and it requires no shaving of soap. Unless of course I find it for a buck or less.
This awesome is at the dollar tree and it's nice. I use this entire container. They have a very good power to it. I use a entire box of borax and washing soda. I will add in scented beads when they have them. There have been times I found a few small packs of the small soaps on sale. I pick up a few and toss it in.
There have been people happy to come get a zip lock bag of my soap. I have yet to tell anyone what it is. I have used this over a few years now. It's truly a blessing to be frugal. Thumbs up.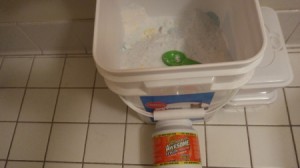 Answer

this Question
I have read different articles on how to make laundry detergent, and tried our own recipe last week. I used Fels Napa bar soap, grated it up, put it on the burner with water covering it until it melted.
Read More...