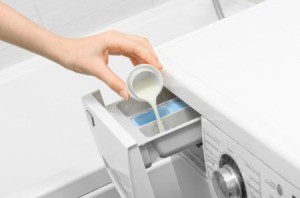 This is the recipe I used: 1 bar of grated fels naptha soap in 4 cups of water in a medium size pan, over medium heat until all soap dissolves. I also added grapefruit scent from Hobby Lobby made for making soap. Then I filled a 5 gallon pail with approximately 4 gallons of hot tap water, to this I added 1/2 cup of washing soda and 1 cup of borax, then added the mix of dissolved fels naptha soap and previously added scent to the 5 gallon bucket.
I stirred it well and put the lid on. I have waited a full 24 hours and the soap is still liquid, no gel at all. What did I do wrong? Can you help?
By Jill W. from Sterling, IL
Answers

OliveOyl
Bronze Feedback Medal for All Time! 138 Feedbacks
March 22, 2012
0

found this helpful
Best Answer
It sounds like too much water was used. You can still use the liquid to wash clothes with. If you try making it again, use less water to start with and see how it turns out. You can always add more warm water to thin it out if it's too thick.

susan
Silver Feedback Medal for All Time! 472 Feedbacks
March 28, 2012
1

found this helpful
Best Answer
I always make mine in a 5 gallon bucket with no problems. My guess is that the scent may have kept the soap from gelling; it may have been meant for liquid soap. I've made laundry detergent using homemade soap, and it remained a liquid too.
There is nothing wong with it, it can still be used. Some people stir and stir theirs in the attempt to keep it in a liquid state. As long as it cleans the clothes, I really don't care what form it's in.

July 30, 2012
1

found this helpful
Best Answer
I've always melted the Fels Naptha, turned off the heat, added the borax and soda and stir till they are dissolved then added it to the hot water in my large container. Given a night, it's always the consistency of runny egg whites and easy to stir to a smooth consistency. Good luck!

March 26, 2012
0

found this helpful
After melting my grated soap, I cook it and my borax and washing soda all together, I then mix it with hot water in my large container. I also add a cup or two of good smelling fabric softener.
Mine gels well so I take a large wisk and have to wisk 3 or 4 times during the first 24 hours. It turns out very creamy. Good luck
Answer

this Question