Egg on Toast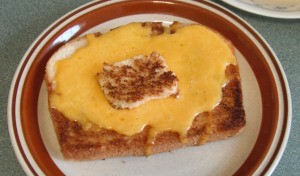 In the past, my husband didn't like eggs for breakfast without some bacon to go with it. Now that we have stopped eating bacon, he has found that he loves egg on toast with melted cheese on top. When I first started making it, I burned the toast but he ate it anyway. I have worked on my timing to get this to turn out just right for him.
I like egg sandwiches so, before I contaminate the frying pan with his bread, I quickly fry a couple of eggs and toast my gluten free bread and make my sandwich. This needs to cool a little which works out great for me as it's just right to eat when I finish with his egg on toast.
Total Time: only a few minutes
Yield: 1 serving
Ingredients:
1 egg
1 slice of bread
Butter Pam
1 pat of butter
grated cheese
salt and pepper as desired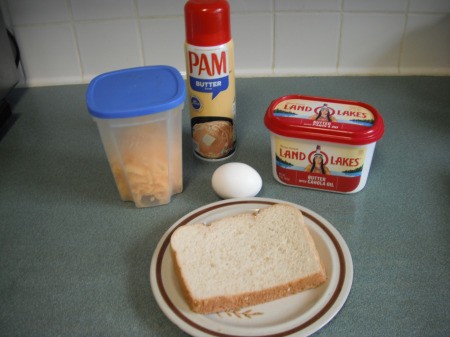 Steps:
Cut a hole in the bread large enough to hold the egg yolk.
Spray pan with Butter Pam. Place a pat of butter in the frying pan and heat on medium.
When the butter is hot, place bread and the cut out piece in the pan. Drop an egg in the hole.
Using a fork, break the yolk and spread the egg around on the top of the bread. Add salt and pepper.
Check the cut out piece and see if it has browned. If so, it's time to flip the egg on toast over.
Sprinkle some grated cheese on top.
Turn burner off. Place a lid on the pan. Let it sit on the hot burner until the cheese is melted. Approximately 1 minute.
Serve immediately.
Add your voice! Click below to comment. ThriftyFun is powered by your wisdom!
Related Content