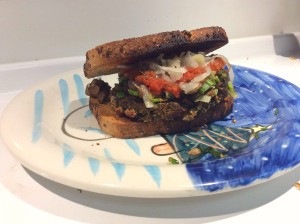 In my eternal quest for plant-based meals that everyone will love, I went ahead and made these delicious eggplant burgers, based on a Green Earth recipe.
These are a great way to get your kiddoes to eat more veg (especially the adult kiddoes in your life whose idea of 'salad' is the garnish on a serving of steak). Also obviously these are a good meat replacement for those who eschew the cow.
The original recipe called for vegan cheese, which I didn't have, plus it's overpriced, so I would say, either use a cup of regular cheese instead of the beans, or go ahead and use the beans. Or you can use the vegan cheese, I suppose. One day I'll try it with that just to see.