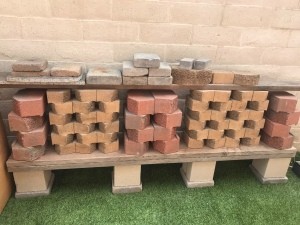 We have extra miscellaneous wall blocks and pavers that we have been storing on a pallet. Not a good idea because a pallet makes the perfect hiding spot/home for mice to live in!
Here's an inexpensive way to keep your outdoor items elevated (especially if they're heavy items) versus being directly on the floor.
Buy 8x8x8 inch gray concrete blocks. They're only $1.40 each and then you can use a wood piece on top.
For lighter items, you don't need 4 blocks, just 2 or 3 would be enough. The wood piece is actually from our older wooden raised garden bed that we took apart since we made a new and improved one recently. To get wood inexpensively, try looking at the clearance section where there may be a slight defect to the wood for an extra discount.
Our set up is a concrete square paver > concrete block > 2 wood pieces (giving this 14 inches above the ground).
We haven't seen any mice since.