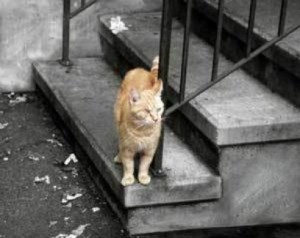 Disaster can strike at any time. When it happens, the pets in your care are going to have to depend on you to take care of their needs. If a disaster strikes your area today, are you prepared to take care your pet for however long it takes to recover? The best time to stock up on the things you'll need for your pet is NOW, before your affected by a disaster.
Basic Disaster Kit for Dogs and Cats
Here is a list of supplies that you should have in your disaster kit for the dogs and cats in your household:
Food: Store a one week supply for each dog and each cat in the household. Use the brand that they are used to and have both dry and canned food on hand if that is what they normally eat. Buy pop-top cans small enough to be used at one feeding. Include a feeding dish and scoop or spoon with your supplies in case those normally used are lost. Be sure to rotate the food so it remains fresh.
Water: Have enough water to last at least one week for each cat and dog in your household. Store the water in a cool, dark place and rotate it every 4-6 weeks to keep it fresh. Include a water dish in your supplies in the event those normally used get lost.
Sanitary Supplies: Your kit should include a small litter box and scoop for cats, including a week's supply of cat littler. Include a pooper-scooper for cleaning up dog waste. Also, stock some plastic bags in your supplies for disposing of your pet's waste.
Cleaning Supplies: Keep a small container of dish soap for cleaning out food dishes and a roll of paper towels for drying and cleanup.
Collar and Tag: Each pet should have a proper fitting, break-away collar and ID tag, and a copy of a current vaccinations. Even if your pet normally wears a collar, an extra one should be kept with your supplies should the permanent one get lost during a disaster. Keep a blank write-on tag with your supplies should you have to relocate for an extended period of time. Keep a harness for cats in case you need to walk them. Animals become highly stressed in disasters and can easily slip out of a collar, but not a harness. Don't forget to include a leash. A microchip is an additional way for a shelter to identify your pet should they become lost. It's also a good idea to keep current pictures and descriptions of your pets with your family's disaster kit.
Confining Your Pet: You might consider purchasing a plastic airline crate or collapsible wire crate for transporting your dog or cat if evacuation becomes necessary. A crate will also give you a way to confine them if walls or windows in your home are destroyed. The crate should be large enough for the animal to lie down in and have enough extra space for a food and water dish. Include an extra blanket and toys (chew toys for dogs inclined to chew). For dogs, include a metal stake that twists into the ground and a secure chain (not a leash they can chew through) for tying them out. Make sure if dogs are staked they are supervised at all times and they have access to protection from sun or bad weather.
First Aid Kit: Your disaster kit should also include a first aid kit, including appropriate books on animal first aid. Basic items to include in your kit:
At least a weeks supply of any medications your animals needs. This may include flea powder or medications for ears or eyes.
Conforming bandage (3 x 5 inches)
Gauze pads (4 x 4 inches)
Gauze roll (3 inches x 1 foot)
Cotton tipped applicators (one box)
Antiseptic wipes (one package)
Emollient cream (one container)
Tweezers and scissors
Instant cold pack
Latex disposable gloves (several pairs)
Make sure your cat and dog are current on all vaccinations.
Keep the smaller items in your pet disaster kit organized in a nylon duffle bag or plastic storage tote next to your family's disaster kit. Make sure everyone in the family (and pet sitters) know where it's located.
Make A Disaster Plan
Finally, it's important to have a disaster plan for your pets. Health and safety concerns prevent shelters from allowing disaster victims to bring their pets. None of us want to be separated from our pets, but in a time of disaster, it sometimes happens. If possible, establish agreements with relatives or friends both in and outside of your community to temporarily house your pets in the event you area is struck by a disaster. If you go on vacation, be sure you have discussed with them a plan to take care of you animals if a disaster should strike while you're away from home. Ask your veterinarian and local animal shelter if they have a disaster plan.
Many of us live in areas where there are earthquakes, floods, and tornadoes. I live in an earthquake/flood/lahar zone. Sometime we may be forced to evacuate to a safer place. If you have a cat like I do, and need to grab them quickly to take them to a safe place or shelter, they usually have a mind of their own. Most times they won't come when called (especially if they are afraid). Recently I was on a website that has ideas for dealing with pets in an emergency. Here are 3 that I found especially useful for dogs and cats:
Every time you feed your pet make a special noise or whistle. This way he will remember that "special noise" and know he's going to receive food. If you need to grab your pet in a hurry to remove them from danger, you simply make that same noise and he will come running and you can take him to a safe place, away from danger! (Also: Remember, the electric can opener will not work if there's no electricity, so if your pets come running when they hear it, use another sound!)
All of us should have a pet carrier. Many pets think they are going to the vet when they see us get out the pet carrier, this can really scare them! To re-condition their minds to think "happy thoughts" when they see the pet carrier, do this: When you feed them, make the "special noise" (from above), then put their bowl of food in the pet carrier and walk away (so they won't think you are going to shut the door on them). If you feed your pet in the pet carrier daily, they will begin to feel good about the carrier and it will make it easy to get your pet into their carrier in an emergency with minimal trouble!
Every pet should have his or her own pet carrier. If you have cats that usually get along well with each other, you might be able to get by with buying only one medium-large size carrier, but remember, we never know what they will do in an emergency. It's best to have a carrier for each animal we have in our family. They always say to get a carrier that's just big enough for the animal to "turn around in". But after reading up a bit on pets in emergencies, I found that it's important for cat's have a carrier that is big enough to also fit a cat-box in it.
We saw what happened to pets during "Katrina", so don't wait until it happens! Read up now so you'll know what to do before it happens! The top URL is the best. It has information not only about what to do afterward, but also, what pets do to warn us before an earthquake.
If you leave for a shelter and can't find your pet, be sure to leave lots of water for it and post an emergency phone number on your front door, in case someone finds your pet and check back at home daily if possible.
Remember, in a fire, just GET OUT, and get your family out. Leave a door open for your pets to escape. They will know what to do. Be sure to post a sicker on your door or window so the fire department will know you have pets and how many. These are available at most fire departments.
Here are several Great URL's for dealing with animals in emergencies: