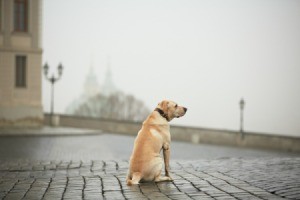 When natural disasters happen we naturally try to think of how we as a family are going to survive. We prepare and get ready, but what will happen to our pets is another question. Victims of Katrina left behind many animals and the animal shelters were over flowing. Many owners never were able to get their pets back. This was a very sad time for many families. But if we take a little time now and make sure our pets are prepared also, it could make the difference in life or death or every finding your pet again.
Here are some tips to help you get prepared:
If you are asked to voluntarily leave do so and take your pets. You have a better chance of keeping your pet by leaving early. Make arrangements ahead of time with someone you trust to care for your pets in an emergency so that if you can not find a motel or hotel that will take pets you will know they are safe.
Do not depend on kennels or vets to be able to board your animals; the vet will probably be leaving too. Ask a neighbor or good friend to evacuate your animals if you are not home when disaster strikes. Also let them know where you keep your pet disaster kit so they can take that also.
Make sure that your pets have the proper identification. Microchips can be the best protection for your pets. It is inexpensive and quick and easy. When you decide where you and your family are going take a piece of adhesive tape and put it on the dog's collar with the address and phone number for the shelter where you will be staying. A second collar with emergency numbers on it could save your pets life. Tags with vet information and an out of state contact could help your pet find its way back to you.
Prepare and keep with you a pet disaster kit which should include
Have at least a week's supply of food and water. Buy the smallest canned foods (may not be able to refrigerate once cans are opened) and a can opener.
Food and water dishes (collapsible or plastic containers with lids work really well when on the move).
Carrier or crate for each animal with secure lock.
Sturdy leashes/harness for each pet. You will need to keep control of your animals at all times. Due to stress they may experience a fight or flight reaction.
Disinfectant cleaner and paper towels.
Have a supply of any medication your pet takes.
Copies of medical records stored in waterproof container. Include your veterinarian's name and address, as well as an authorization form allowing medical treatment if you're not available.
Keep an extra collar with tags in your kit. Have emergency contact information on one of these tags. An out of state relative or a friend who is out of immediate danger should be the contact person. This should be in addition to the extra one you put on your dog in case the original is lost.
Recent photographs of your pets. Include photos with any distinguishing marks, and a photo with you in it will help prove ownership.
An article of your clothing so they can have comfort in your scent...
Spiral ground stake and 6 foot chain for dogs.
Pooper scooper, one weeks supply of cat litter and plastic bags for disposing of waste (shoe box size litter box is recommended. A large plastic bin with a lid can do double duty it can store everything you need and also be used as a litter pan when you get where you are going.
Favorite toys and bed.
First Aid Kit
You can make your own pet first aid kit by assembling the following:
gauze sponges of various widths;
vet wrap 3 inches or Ace self-adhering athletic bandage 3 inches
sterile, non-adherent (non-stick) pads of various widths
sterile stretch gauze bandage 3 inches
hypoallergenic cloth tape 1 inch (you can always cut it down);
bandage scissors
tweezers
muzzle or soft cotton strips to be used as a muzzle especially for cats
hemostats
needle nose pliers for removing quills or stickers
infant rectal thermometer (digital is quickest)
infant ear syringe
eye dropper, or baby dose syringe (for giving medicine)
rubbing alcohol to disinfect scissors and pliers and thermometers
hydrogen peroxide to clean wound with
sterile ear wash
sterile eye wash
styptic pencil or styptic powder to help promote clotting in bleeding situations
triple antibiotic ointment to treat wounds
hydrocortisone acetate 1% (for rashes and bites)
white petroleum jelly (Vaseline or similar)
Pepto Bismol tablets (do not give if you suspect internal bleeding Note:PB will turn your dog's stool black.)
generic Benadryl capsules 25mg doses (for allergies, bites, rashes)
chewable buffered aspirin (comes in smaller doses and tastes better)
Kaopectate: 1 teaspoon every six to eight hours for a 50 pound dog (check dosages with your vet)
hydrogen peroxide, salt, or syrup of ipecac (to induce vomiting - call vet first)
glucose paste, corn syrup, or caramel squares (for low blood sugar)
Ziploc bags (in the event you have to take stool, vomit, or a foreign object to your vet)
In any case other than tornado or flood you probably can keep your pet in your home, even if you yourself have to leave. In this case you should:
Put your animal in a secure room without windows such as a bathroom or utility room.
Invest in auto feeder and auto waterer so they will have these while you are gone.
Again a dog or cat bed with a piece of your clothing for scent and comfort.
By Debra from Colorado Springs, CO
By Lynda (Guest Post)
October 12, 2006
0

found this helpful
THANK YOU VERY MUCH. I'VE ADDED THIS LIST TO MY FAVORITES! IN CASE OF EMERGENCY AND SHOULD
I ever get money for it all. I tend to focus more on what I know about humans in an emergency, but after Katrina stories and horror, I'm passing this info around with your permission. God bless you for taking the time to share this. : )