Aisha is 18 months old and is a European Shorthair (Moggie.) I found sweet little Aisha in a rubbish bin while visiting Greece in late 2004. She was very tiny, very sick, thin and half-dead from hunger and had almost no fur left because of ringworms. I had to extend my Greek vacation for a month in order to get her well enough and to get all the papers and shots needed in order for me to bring her back with me to Denmark.
Aisha is just a bundle of love and joy and it seems somehow that she realizes that she has been given a second chance in life. Her zest for life and having fun is just so heartwarming to see. She has 5 cat siblings, all rescue cats and she just loves to "harrass" them all and keep them on their toes. They all love her dearly and groom and cuddle their "little sister" all the time. She loves being spoiled by them all and gets away with anything where they are concerned. The world is definitely a better place with Aisha in it and I am so lucky I found her.
The picture is of Aisha on a walk with me in the woods next to where I live. She learned very early to walk on a lead and can't wait to go chase butterflies, bumblebees and anything else that catches her eye. She even wants to chase dogs, horses and bicycles, but I think she'd be biting off a bit more than she could chew if I let her do that. Maybe I should have named her "Braveheart" instead...
By Vicki from Copenhagen, Denmark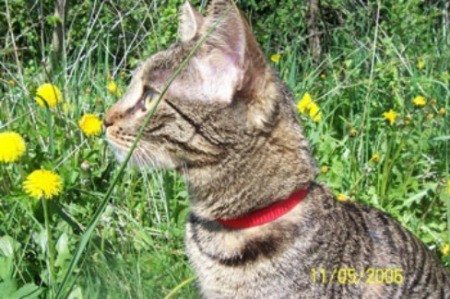 Read More Comments