Extending the Life of Pantyhose
Solutions
Share on ThriftyFunThis page contains the following solutions. Have something to add? Please share your solution!
Ok, I am a HUGE pantyhose fan and I try to wear them every day. I adore the way they add contrast to my legs, help shape my body, the delicate hug and compression, the sexy "Hey, here are my legs!" shimmer, and the concealment of imperfections and their transformation into testaments of feminine power and grace. Even their scent is admired by many men and women alike.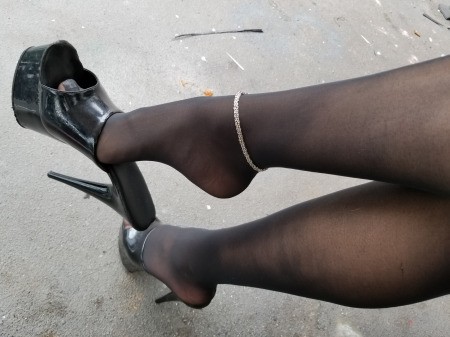 Here are some tips to prolong the life of our dear love, the pantyhose:

First, handle with dishwashing (latex, etc.) gloves!
Prepare a bucket or large bowl (sink is not clean, ew!) filled with cold water and put in some surfactant such as a light detergent *(dish washing soap) and put pantyhose in there for 3 minutes. Take out and put directly in to freezer for 20 minutes. Take out and rinse with cold water. Warm water will weaken, overstretch, and fade the dye of the your nylons. Hang dry then wear.
DO NOT ADD: perfume, body spray, or anything with alcohol or acetone (nail polish remover) or vasaline or lotions with alcohols directly on them. Such things will weaken the fibers of your hose. Instead, use olive oil mixed with your favorite scented oil. Coconut oil is great because it has antimicrobial and fungal properties that are best suited for prevention. Or mix in your perfume with it, let it dry and then apply.

Side tip: did you know putting a little caramel extract or perfume on your toes will make most men fall in love with you! Take care of your feet, scrub them, then buff them. ;)


You can add hairspray to your pantyhose after they have dried to further lock in the nylon grid, however, you will have to wash them more frequently which no matter what will weaken anything, after all, H20 or water is the universal solvent :)


Wear cute mocassin, frilly ankle high, or classy knee high sheer or opaque nylons OVER your pantyhose. Foot, ankle, and knee high nylon socks are usually way affordable and putting them over your nylons means the most prone part of your pantyhose (the toes, heels, and shins) are protected by the external layer of nylons. If they take a hit, oh well, no big deal, you bought a pack of 6 for under a few bucks :)

If you have long toenails (even if you don't) and you are going to be on your feet longer, then you may want to invest in reinforced toe and or reinforced to and heel nylons (RHT nylons).

Side tip: Keep you nylons on next time you ask for a foot rub because they act as a dry lubricant, letting the hands slide more freely across the skin and it feel amazing too! ;)


If you wear pantyhose every day, you may want to invest in ladder resistant nylons. There are currently even KEVLAR nylons and they are ultra comfortable and pretty sheer. Soon you can look forward to (and I'm not kidding) SPIDER SILK NYLONS! No joke!

Side tip just from me to you, so shhhh! Invest in Spider Silk producers and manufacturers like Kraigs Biocraft Labs.

And finally:


Try different brands and designs of pantyhose until you find the ones you love. I have like 20 different brands I love. They add confidence to your personality and style as well as diversity/variablility to your wardrobe.

Just for fun, I let my son pick out a pair for me at the mall the other day with the help of a very nice and knowledgeable salesgirl who helped us out greatly. He insisted I wear them to his high school play that he is in so I will, that's how amazing pantyhose are! :)

Read More Comments
Pantyhose are getting expensive and I work in an office and need to wear them everyday. Whenever I get one leg that has a noticeable run or hole.
I cut of the one leg. Then I use it either with a pair that the other leg has been cutoff.
Read More...
Panty hose are expensive! This little trick has probably saved me hundreds of dollars over the years! Decide on your most preferred color of pantyhose and buy several pair. When getting a run or hole in one leg, cut that leg off and launder the "good leg" and panty.
Read More...
Archives
ThriftyFun is one of the longest running frugal living communities on the Internet. These are archives of older discussions.
So you have two pairs of pantyhose/tights, both pairs are the same shade/colour and both pairs have a hole in one leg. So you cut off the legs with the holes and then wear both pairs one on top of the other, thus covering both your legs with a leg of pantyhose with no holes or ladders!
By Borasic Lint from UK
Read More Comments
Advertisement
Published by ThriftyFun.
© 1997-2020 by Cumuli, Inc. All Rights Reserved.
https://www.thriftyfun.com/Extending-the-Life-of-Pantyhose-1.html