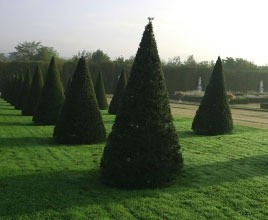 Question:
I am looking for suggestions for fast growing evergreen trees. However, I am not interested in the cylinder shaped "privacy" treesthat I see everywhere. Thank you.
Hardiness Zone: 8-9
Laurel from Port Orchard, WA
Answer:
Hi Laurel,
I'm not sure whether or not this falls under your definition of a cylinder-shaped privacy tree (it's more cone-shaped), but Thuja Green Giant cedars are probably the fastest growing evergreens out there. They grow at a rate of approximately 3-5 feet per year, and reach heights of 20 ft (when planted in rows) to 40 ft (if planted alone). Another advantage is they are drought tolerant, with no significant disease or insect problems. The Nellie Stevens Holly, or American Holly tree are two additional good non-conifer options. They form more of a wall or hedge when planted together, rather than cylinders or cones.
Another choice would be a Leyland cypress like Castlewellan. Known for its tendency toward conical growth, it has delicate lacy foliage and changes color for added winter interest. In the winter, the exterior of the tree turns gold while the interior remains green.
If you are looking for something that has more of a naturally shaped form, there are several great options in the conifer family. None of these trees will grow quite as fast, but they are also much longer-lived. Probably the fastest growing conifer is the Dawn Redwood. It tolerates a lot of standing water, and grows up to 6 ft per year. In the autumn, its needles turn a lovely golden/orange. Unfortunately, they also shed their fern-like needles in the winter and are actually considered a deciduous conifer. If you can live with seasonal needle drop, Dawn Redwoods would be a lovely choice.
In the pine tree department, White Pine, Longleaf Pine, Loblolly Pine, and Canary Island Pine are all said to be fast growing. These trees get quite large, however, so they cannot be planted close together. For more detailed information, browse these specific trees at the Arbor Foundation website:
Good luck!
Ellen

May 6, 2008
0

found this helpful
Hello to Port Orchard from Moses Lake - but a year and some ago I was near Bellingham. Good for you for rejecting those cylinder shaped things, although I respect them for at least being natural. Over here everything is butchered into lollipop shapes and it makes me nuts. Have you looked at a mugo pine? Pinus mugo , try googling it.

June 11, 2008
0

found this helpful
I'm not exactly sure what you're looking for but I'm in zone 9 and I was looking for a christmas tree type evergreen to grow which was hard to find for my zone. The closest tree I could find was the Arizona Cypress, which has a med growth rate.
I just ordered some through Arbor Day and can't wait for this fall when they'll be shipped. Good Luck.