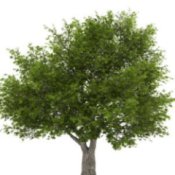 Question:
We recently had to cut down a 30-year-old willow tree with a 4 foot stump radius that I had planted for shade. It has left a big "hole" in my front yard; as the other side is smaller and has 3 tall maples and a large blue spruce. It was on the northwest side so it blocked the sun until it went down. I need to do something before fall and don't know what to do.
We are not allowed to burn the stump which we were originally going to do and replant something. We get very bad winds here and would like to plant something that will survive the winters and grow quickly. I don't have too much space with that huge stump.
Hardiness Zone: 6a
Thanks,
Betty from Slate Hill, NY
Answer:
Betty,My condolences on the loss of such a beautiful tree! Fortunately, you have several good options for fast growing replacements that grow well in your zone: hybrid poplar (up to 8 feet per year), Autumn Purple ash (great fall foliage), red maple (great fall foliage), flowering pear (white flowers), Ponderosa pine (evergreen), empress tree (for fast shade and lavender flowers), willow (to replace what you lost) and quaking aspen (often grown commercially for pulp because of its fast growth rate). There are more possibilities, of course, but these are some ideas to investigate. In general, fast growing and the ability to survive high winter winds are not necessarily traits that are compatible. You may find yourself compromising one trait in favor of another.
You didn't mention whether or not you're looking for advice on how to get rid of your stump, but if you don't plan on grinding it down, there are some inexpensive tricks that will make the wood breakdown faster. Normally it takes at least 4-5 years for the wood to breakdown (even longer for large stumps like yours). To expedite the process, I would recommend drilling several holes around the perimeter of the stump and filling them with some type of sugar (syrup, jelly, white sugar, molasses, etc.) or buttermilk. The idea is to get the decomposition process started quickly. After filling up the holes, wet down the stump and cover it with a thick layer of mulch. Cover the mulch with a dark colored tarp. This will reduce the time it takes the wood to decompose by half. In the meantime, maybe you could disguise the tarp by placing planters filled with seasonal plants on top.
Ellen