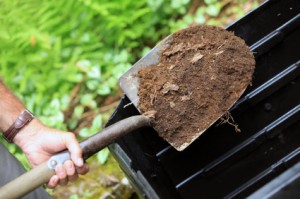 Fertilizing plants can seem complicated, so gardeners often use the hit-or-miss method of guessing how much and what type of fertilizer their plants need. Unfortunately, in the long run this approach often leads to more problems than it solves. Here is a breakdown of all you really need to know about feeding your garden plants.
The Value of a Soil Test
A $15 soil test can save you all kinds of money (and frustration) when it comes to applying fertilizers. When you have your soil tested, elements are chemically removed from the soil and measured for their "plant available" content. An analysis of the quantity of available nutrients in your sample is then used to determine the amount of fertilizer you need.
By knowing whether there is too little or too much of a nutrient present in your soil for the specific plants you intend to grow, you can save time and money that might otherwise be spent on unneeded fertilizer. Why waste money guessing when a soil test will tell you exactly what you need to know?
The Only 3 Numbers You Need to Know
When shopping for fertilizers, it's important to take time to read the bag. The label on all commercial fertilizers features a three-number NPK ratio. The first number is the percentage of nitrogen (N); the second, the percentage of phosphate (P); and the third, the percentage of potash (K), which is the form of potassium plants use. As an example, a 5-10-10 fertilizer contains 5% nitrogen, 10% phosphate, and 10% potassium.
Commercial vs. Organic
Commercial fertilizers - both synthetic and organic - may supply one, two, or all three of the macro-nutrients plants need. Some fertilizers also contain secondary nutrients and micro-nutrients. Both synthetic and organic fertilizers are effective when used properly, but using organic fertilizers offers some distinct advantages:
They attract and work with soil microorganisms to release nutrients into the soil so it's much harder to over-feed your plants.
Because nutrients are released slowly over time rather than all at once, they won't "wash away" in a heavy rain as easily as synthetic fertilizers.
Organic fertilizers are made by recycling existing renewable resources like cotton, manure, kelp, and bone meal. Many synthetic fertilizers are derived from petroleum-based products.
Organic fertilizers are 100% safe for earthworms. Synthetic fertilizers may contain high levels of salts and other additives that are harmful to worms and soil microorganisms.
Application Options
Foliage application. his method allows you to feed a liquid fertilizer to plants by spraying it directly onto their leaves. Liquid fertilizers can also be watered into the soil.
Side-dressing. Dry fertilizers or compost are applied in a ring around the base of established plants or in a band next to a row of plants.
Top-dressing. A drop spreader is used to apply dry fertilizer or screened compost over the top of your lawn.
Broadcasting. Dry fertilizers (powdered, granular, or pelleted) are broadcast over a broad area of soil with a spreader or by hand, and then raked or dug into the soil.

Determining Who Needs What

Leafy crops, foliage plants, trees, and shrubs, grasses. These are the nitrogen lovers (N). Give them a steady supply of nitrogen and they will build lush, green, healthy stems and leaves. Look for fertilizers with a ratio of two to four times more nitrogen than phosphorus or potassium.

Fruits and flowers. Phosphorus (P) improves blossom and fruit set in ornamental flowers and fruit-producing plants. This includes vegetable fruits such as tomatoes, beans, and squash. A complete fertilizer for these plants should have two times more phosphorus (P) than nitrogen (N), with an equal or lesser amount of potassium (K) (e.g. 8-32-16 or 6-24-24).

Root crops. Phosphate (P) and potassium (K) both play a critical role in healthy root growth, so root crops such as carrots, beets and potatoes will benefit from a fertilizer ratio that's twice as high in phosphate and potassium as it is in nitrogen (e.g. 5-10-10).

Vegetable gardens. Because vegetable gardens usually contain a broad mix of crops (root, leafy, and fruit-bearing) feeding can be simplified by using a balanced fertilizer in which the macro-nutrients are all in equal ratio to each other (e.g. 10-10-10).

Less Is Usually More

One of the best ways to simplify fertilizing is to not fertilize at all. Before you haul out the fertilizer, think about which of your plants truly need to be fertilized. If you are adding compost and mulch on a regular basis, most of your plants won't need any supplemental feedings. Perennials, trees, shrubs, and vines that are growing well will probably continue to do fine without feeding.

Leaving your grass clippings on the lawn should supply it with plenty of nitrogen. Annual flowers and vegetables might appreciate a boost in mid-summer, but often even using half the amount of fertilizer recommended on the package is usually sufficient. For most plants, adding mulch and compost annually will help control weeds, conserve moisture, and supply ample amounts of nutrients.

Compost: Using Nature as a Guide

If you use only one fertilizer in your garden, make it compost. It is, after all, what Mother Nature uses. Compost is the results of a natural biological process and nature's way of recycling.

As leaves fall and plants die back, the natural environment recycles the organic matter back into the soil to aid the growth of new and existing plants. Like other organic fertilizers, the nutrient content of compost is low when compared to synthetic fertilizers (in the range of 0.5-0.5-0.5 to 4-4-4), but adding nutrients your soil is only one of its benefits. It also promotes the health of soil microorganisms, which helps increase the availability of nutrients to your plants. As a source of organic matter, compost improves your soil's structure, drainage, and water-holding capacity.