April 27, 2017
0

found this helpful
You can state your reason for wanting free yarn on free ads on Craigslist and Freecycle and you may find other places if you Google your zip code and ask "where can I get free yarn" - you just never know what will come up.
I know of people who buy cheap sweaters and scarves from thrift stores and unravel to reuse.
Here is an excellent site to use:
https://www.lis sweater-yarn-100
April 28, 2017
0

found this helpful
Good advice. I buy scarves and afghans all year and "frog" them, because you "rip it rip it rip it". Cute, huh? Then I make cat mats for the local shelters.
You can also go to the same thrift stores and often find big bags with yarn in balls or even still in the skeins for dirt cheap. Also, go onto Craigslist into arts and crafts and put in yarn. Some sell it for low prices if you come to their home or meet them at a public place.
I hope these help.
PBP
http://www.thri ed-Cat-Mats.html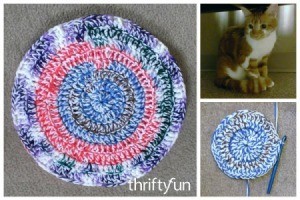 April 29, 2017
0

found this helpful
Craigslist is definitely the way to go for that! Ebay.com is awesome too, since you can get great deals. Plus, if you bid on some yarn on Ebay.com you can get some for pretty cheap sometimes.
May 28, 2017
0

found this helpful
Our local Goodwill store usually has lots of really cheap yarn. You could also try your local Senior Center. Ours has a store where Seniors can sell the items they make and they often have yarn that is either free or really cheap. You might also try contacting any knitting or crocheting clubs in your area.