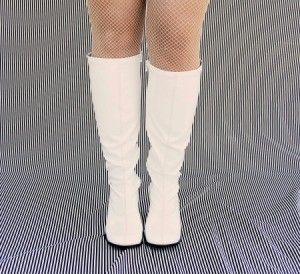 I am the new sponsor/coach for the dance team at the high school where I teach. The girls on the team are interested in doing a routine to "These Boots Were Made for Walking" and they are all pumped up about buying go-go boots. However, the boots will be expensive, about $40, and I don't want to ask parents to pay that much.
So, I am looking for a pattern for covers that could go over their white dance shoes to resemble go-go boots. I've seen a few boot tops online for $10-12, but they just don't look very good because they are all bunchy and wrinkled. I was wondering if anyone knows where I can find a sewing pattern to make boot covers that would have a smoother look. I would appreciate any advice you can give me!
Allison
Answers
By Corrie (Guest Post)
July 30, 2005
0

found this helpful
Best Answer
You could always buy a few yards of white pleather from joannes or some such fabric store or even the back sides of tables cloths...just thick white slightly shiny fabric of any kind would do and cut it to fit on top of their sneakers and go up the legs so that it looks like they are wearing boots.
By Teresa (Guest Post)
August 6, 2005
0

found this helpful
Best Answer
""
There are a lot of dance uniform companies, and costume stores (might be cheaper) that sell a shoe cover that covers the shoe, goes to the knee, and resembles go go boots. They are very cute and much less expensive.
By annalissa (Guest Post)
February 1, 2009
0

found this helpful
I'm a gogo dancer and I can get some gogo boots real cheap. I need a picture of the exact kind you need. My email is dracotomfeltonhp AT aol.com, or anna886908 AT yahoo.com
Answer

this Question