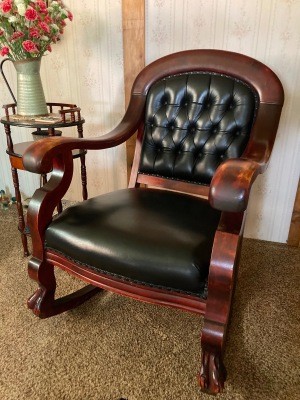 I would like to know the brand, the age and the value of this chair. Thanks

Answers

CDC
Bronze Tip Medal for All Time! 59 Tips
September 6, 2022
1

found this helpful
I didn't find a rocking chair like yours & it appears to be in good condition & I'm sure is quite valuable. If there are no manufacturer's marks on your chair, you may need to contact a professional antique's dealer for an appraisal.
I noticed this leather upholstered claw foot rocking chair is listed for $2600:
saladocreekantiques.com/.../
Another claw foot rocking chair had a bid of $375 in 2017:
www.k-bid.com/.../29

September 9, 2022
1

found this helpful
I think this is an antique 19th rocking chair
This Empire Antique Lion Paw Foot Rocker, but not leather 39"H x 28"D sold for $350
bid.auctionbymayo.com/.../2341310
Victorian Mahogany Rocking Chair Chinoiserie Toile Fabric 19th Century is listed for $699

September 10, 2022
1

found this helpful
I found an identical chair, but it's not a rocking chair
The seat was completely rebuilt, upholstered.
Your chair has a rather high seat, I think it has coiled springs inside. Armchairs made after 1830 often have coiled springs homeguides.sfgate.com/identify-upholstered-vintage-antique...
It is very difficult to identify a chair from one photo.
I think your Rocking Chair is from the late 1800s.
Check screws. If the wood around the screw is oxidized black, then it is an old uncoated screw. If the screw has an off-center slot that is not even, then it is a handmade screw.
Machine-made around 1830 screws have the slot again off-center but even. Modern gimlet screws post 1848 have a centered slot.
www.liveauctioneers.com/.../
www.worthpoint.com/.../clues-antique-chairs
Mahogany Empire Clawfoot Parlor Chair circa 1890
www.pinterest.com/.../
Another antique claw foot arm chair from 1800-1899
www.pinterest.com/.../
Rare 1800's Antique American Victorian Edwardian Mahogany Rocking Chair Lion Paw at $1,250

September 11, 2022
0

found this helpful
This similar antique Clawfoot Rocking Chair sold for $2,054
www.aptdeco.com/.../antique-clawfoot-rocking-chair
It is re-upholstered, width 26 inches, height 26 inches, depth 36 inches.
This Clawfoot Rocking Chair sold for $85

October 16, 2022
0

found this helpful
Interesting rocking chair.
Probably not very 'popular' in the regular market as to gain the true value of an item like this, you will probably have to take it to a well advertised auction which will probably not be local - or maybe you are in an area where large antique auctions are held.
I did see a few similar chairs but antiques are not valued by 'similar' pieces as each one is unique - style, type, age, overall condition, brand, - all of these things make up the value of a chair like this.
Your chair appears to be from the 1800-1899 but may be closer to the end of the 1800s.
If you plan to sell your chair or just want to 'know' the value, I would suggest you ask your question on several other sites - sites that will have more knowledgeable members when looking at antiques.
This takes a little time, and it is troublesome, so that is your choice.
Here are some links in case you're interested in finding reliable information about your chair.
Reddit has always provided me with very good answers. You will have to join and post more than one picture.
www.reddit.com/.../
I use free appraisals frequently and their answers are always top-notch. They may not provide information if your item is worth less than $500. It might be a good idea to ask before you do anything with your chair.
www.whatsellsbest.com/.../antiques.html
Answer

this Question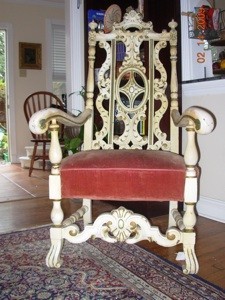 I would like information on this antique chair. Is it French, Italian or something else? Do you think it is an original, made in the 20's or 30's? I have spent numerous hours on the internet and have been to antique stores and no one can give me any information. Help please!
By dee kidder from Baton Rouge, LA
Answers

pam munro
Gold Post Medal for All Time! 519 Posts
April 16, 2009
0

found this helpful
You can tell most about a chair by turning it upside down & looking at the joining, the workmanship, etc. Are there wooden pegs? Is there dove joining? Is it handcarved? What is the original finish? What sort of wood is it made of?
Is there a provenance which would help you to pin point the origin?
Answer those questions & you will know more about the chair!

April 17, 2009
0

found this helpful
I think it's a claw & ball foot chair. Look under it for a name. It could be worth lot of money if you can find somebody that knows about antiques & etc. Get more than one person to look at it, good luck.

April 21, 2009
0

found this helpful
Try looking at www.tias.com When you are there click on furniture and accessories, then type in chairs in the search line. There are pages and pages of chairs. tias stands for "the internet antique store" good luck

April 22, 2009
0

found this helpful
It's a knockout, lucky you! Hope you find out plenty.
Answer

this Question