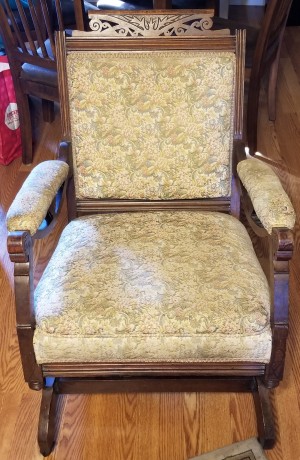 I picked this chair up at an estate sale for $20. It is super comfy. Casters on front, never on back. It came from back east to west in a Model T car. I would like to know manufacturer, year, and value?
I am considering recovering the chair to match our decor. We believe this is not the original fabric. However, if it is, they did some hot gluing of trim that was probably as close of a match as they could find. The fabric on bottom is definitely not original. It looks to be Eastlake, but I haven't found any of the carvings to be the same of anything I could find.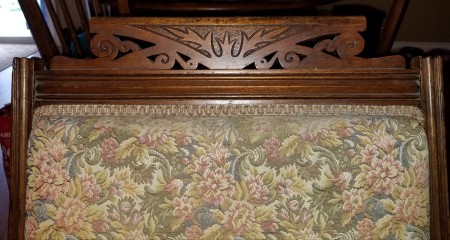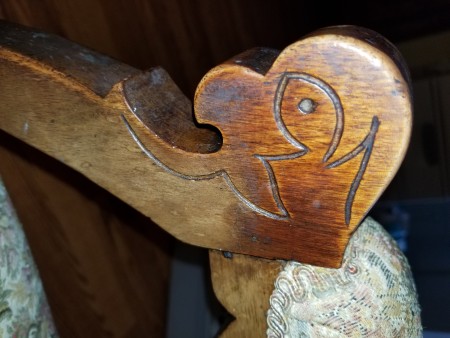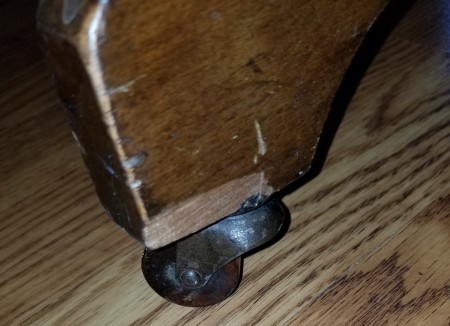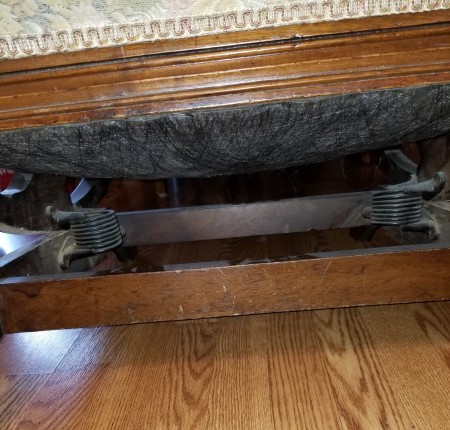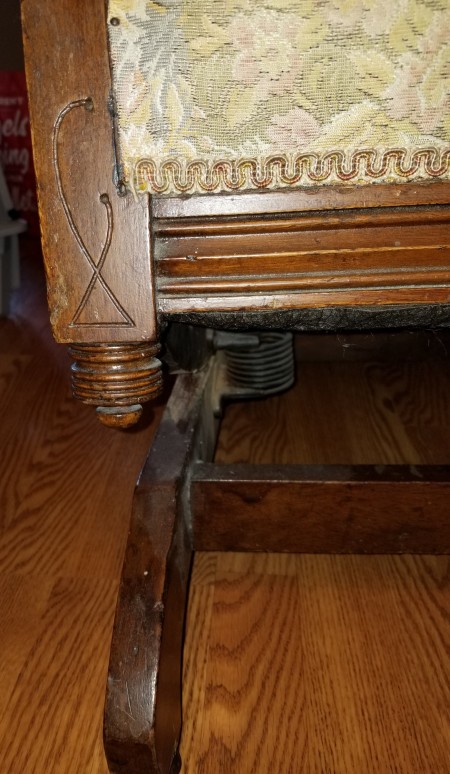 March 8, 2021
0

found this helpful
Best Answer
I like the chair - too bad the chair cannot divulge its history.
Probably made somewhere between 1870-1899 as it seems this was the period this style was so popular.
These usually had a matching footstool and they are still a comfortable style of chair.
A little history:
Late-19th-century furniture that is said to be in the "Eastlake style" derives this appellation from Charles Locke Eastlake (1846-1906), who was an architect plus a commenter on popular tastes."
I believe yours has been redone at some time but a really nice buy at $20.
These platform rockers are still popular but many people prefer the newer 'plain' styles rather than the ornate styles. You can find them with upholstered arms or without; with high backs occasionally but will rarely find the the same exact chair.
As to the brand/company this would be difficult unless it is has brand name/marks somewhere. This style chair was made by almost all furniture companies and sold to furniture stores all over the country.
If you look at listing posted for sale you will rarely find a brand name; just Eastlake ........
Value? The pictures show quite a lot of flaws that would lower the value but does not matter to someone that just wants a comfortable rocker.
In its present state, it may be difficult to sell it for more than $50-$75 and 'pick up only' so no shipping involved.
Here is a lovely example of this style' this chair is listed for sale on several sites: Asking $625 for chair & footstool.
www.ebay.com/.../274550953982?hash=item3fec8317fe...
You can Google this item and see hundreds of examples but not much more information.
www.google.com/search?q=Antique+Eastlake+platform...