I have an old antique steamer wardrobe trunk. It is canvas covered and in pretty good condition. I want to know how much I should sell it for.
By Robin from Fresno, CA
Answers
December 13, 2009
1

found this helpful
(I found this) 'Restored' trunk! With that being said, we buy a trunk, put 20 - 30 hours of work, buy parts and materials as needed, and supplies to finish the trunk, and then sell it. Our average price for a trunk currently ranges from $350 to $600 including shipping. Shipping usually costs us an minimum of $100.00 including the box and packing materials. Now you can see that we buy trunks in the $20 - $100 range depending on what the trunks is.
If you are selling an antique trunk, it is like they say, 'condition is everything'. We have a Trunk Valuation page that will help give you some guidelines in trying to value your trunk. I also recommend to look in antique stores, websites, and yes, even ebay for some price ideas, but remember to evenly compare what you have to what you are looking at.
Also, remember that what they actually sell for is what you need to know, not what they are asking for it, as they can ask whatever they want, but that does not mean it is worth that much. Most of all, be realistic. We do not do official appraisals, but we do recommend Brettuns or The Trunk Shop who will do this for a fee.for more info search for"Value of an Antique Steamer Trunk "good luck.
December 14, 2009
0

found this helpful
I seldom get more than $25 for a steamer trunk at one of my auctions.
December 14, 2009
0

found this helpful
Hi Robin,
We've sold a few nice vintage steamer trunks,and unless you know exactly how the person buying it is going to want it refinished, the best way to sell it is pretty much "as is". Depending on condition and age, they can go from $20 to $100 in "as is" condition. If you are going to advertise it somewhere like eBay or ETSY, you'll need to consider the cost of shipping. That can be a lot more than the trunk's initial cost.
You might try listing it with Craigs List and sell it locally. You may as well sell it locally where the buyer can pick it up
without spending so much at the shipping company. That way, you can even ask more for it.
Most people want an old trunk "dressed up" to fit their own decor, so they'll want to do the work themselves. Unless you'd like to keep the trunk for awhile and enjoy the work that fixing it will require, just sell it "as is".
Hope this helps. Julia in Boca Raton, FL
October 10, 2010
0

found this helpful
I bought mine fore $50 dollars at an estate auction, on one hand full of neat old vintage clothes, on the other hand, absolutely reeking with mildew and had to be cleaned. I think it depends on the market. Garage sale: probably $20. Auction: $50 or maybe more if it's in really top notch shape. Antique store: assuming it's in good condition, probably $100-$140, depending on where you are in the country and how much traffic the antique store gets. It seems like you can charge a little more on the coasts (USA).
Ebay: there's alot of competition and you have to consider postage, so I'd say start start at $40 and hope it might go as far as $80 for a standard trunk. I looked and there are some on there going for $400 for buy-it-now, but they're exceptional pieces, and who knows if they'll really sell for that. Craigslist is sort of hit or miss because you have to assume that someone in your area is willing to come and get it. You might be able to go $50 with Craiglist. Good luck.
April 30, 2017
0

found this helpful
My great grandparents Erho came from the old Country and went through Ellis Island to Chicago and migrated to British Columbia,Canada. I believe they traveled with the wood/metal steamer trunk. I am going to be 69 years old Aug 2017.
March 18, 2018
0

found this helpful
I have a wardrobe steamer trunk I want to sell it has 5 drawers and a closet with hangers all intact also beveledlid
Answer

this Question

...
How much is this vintage black humpback steamer trunk worth? We could not find a manufacturer's name of the trunk.
Description -
Gorgeous rare antique seaman's dome top trunk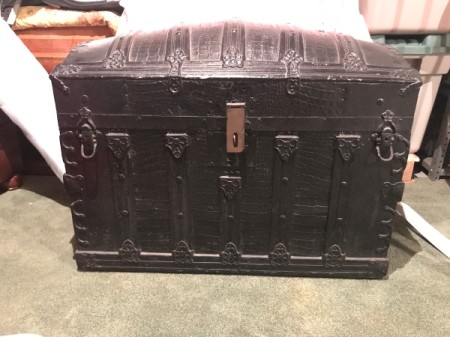 1800s Era
25" X 34" X 22"
Handles on both sides. Front lock in middle of trunk does not work. No key.
Answers
November 19, 2017
0

found this helpful
Its going to be really hard to identify without a manufacturer. You could take it to an antique dealer
November 20, 2017
1

found this helpful
Kovels is an antique trunk specialist and they have put together a generic price guide for many of the more popular antique trunks. You can go there and create an account. i saw a trunk similar to yours on the site. If you create an account you can see what a trunk like yours will sell for. Furthermore, on this site you could take a photo of your truck and they can help you to identify it better. https://www.kov uide/trunks.html
November 20, 2017
0

found this helpful
That's great - thank you!
November 22, 2017
0

found this helpful
It is worth about 100 dollars. You can go on E-Bay and wait for your item to be posted. Watch for actual sales, not just listed prices.
You can also have them e-mail you when a similar item is posted.
November 22, 2017
0

found this helpful
Thank you!
Answer

this Question

...