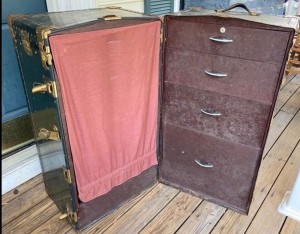 Hello, I am considering purchasing this steamer chest. I could not find the manufacturer info on the chest and the seller does not know. Any idea how much I should pay for this. Thanks!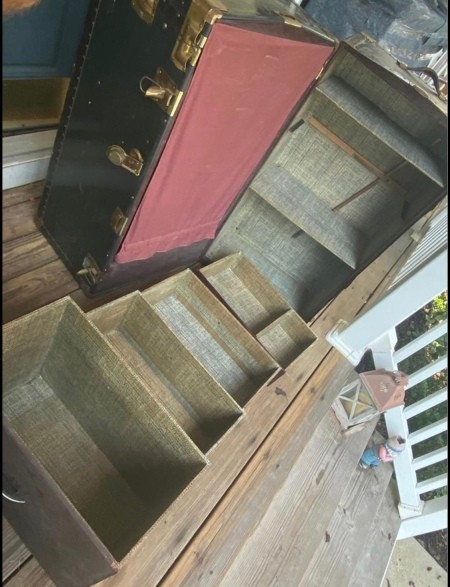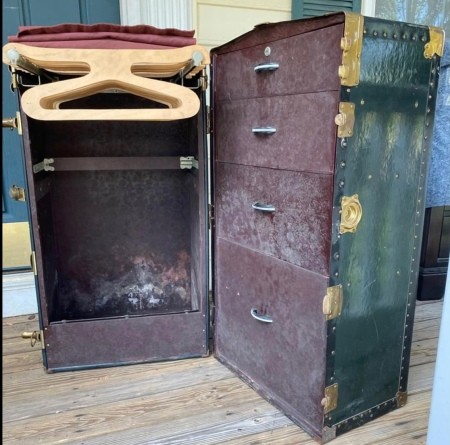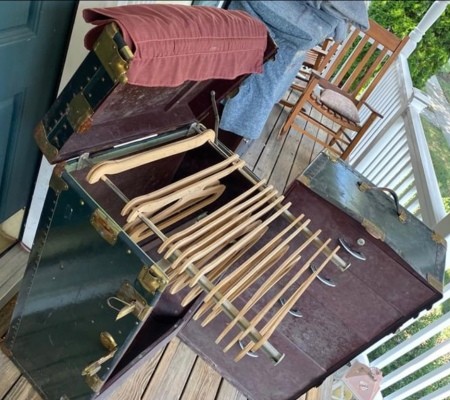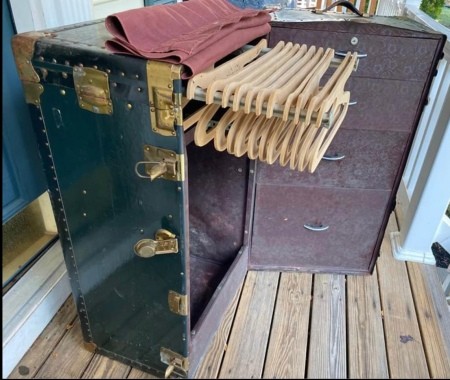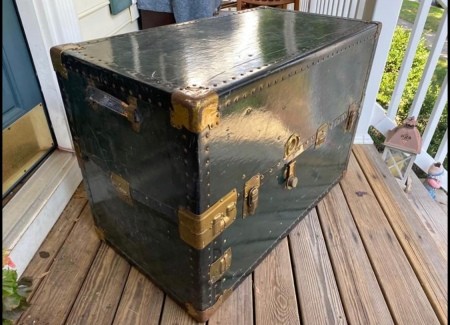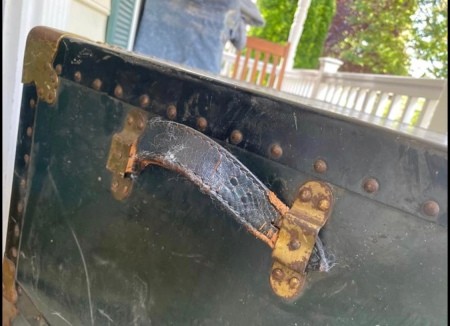 Answers

August 31, 2020
0

found this helpful
Best Answer
This trunk is called a steamer wardrobe trunk and they can sell for $75 - $500 and up. Name brands usually bring in more money.
Condition is critical for high price and it is not really easy to tell the true condition from pictures. That is something you'll have to determine for yourself.
Here are some similar trucks listed for sale on eBay.
Asking prices are just a price a seller would like to receive for their item but only a sold item represent 'value' but listings can give you ideas of what people are asking for these trunks.
www.ebay.com/.../i.html?_from=R40&_nkw=vintage+steamer...
Here is a link to eBay's sold listings so take a look at what people around the country are paying for similar trunks.
The prices seem to range from $75 - $500 according to the condition and where they are located as shipping would probably be around $100.
www.ebay.com/.../i.html?_from=R40&_nkw=vintage+steamer...
Check out a couple nice ones:
www.mercari.com/.../?gclsrc=aw.ds&utm_source=google&utm_medium...
www.etsy.com/.../antique-steamer-wardrobe-trunk?gpla...
www.ebay.com/.../133483725753?chn=ps&norover=1&mkevt...
You can get a much broader view by going to Google and seeing what sellers are asking for similar trunks.
www.google.com/search?q=vintage+steamer+wardrobe...
If you have time before you have to make a decision you might want to present your pictures to this site - its free:

poehere
Bronze Post Medal for All Time! 105 Posts
August 31, 2020
0

found this helpful
Best Answer
From the image you have posted here I can see some water damage on the inside of this trunk. There also seems to be some white mold on some of the drawers of the truck which would indicate it has been stored in a very wet place for several years. From what I can see from the images you have given to us to look it I would not pay more than $35 for this trunk. I fear that the mold I am seeing is not good and if you look closely at the second image on the bottom inside I can see water damage. I would ask for more photos to verify this and get some closeup photos of the drawers to make sure they are not molded.
Answer

this Question

Looking for any historical information about this trunk.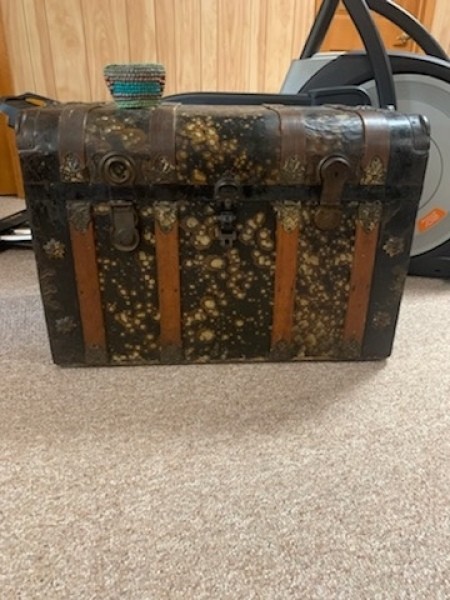 Answers

DianaHM
Bronze Post Medal for 2021. 31 Posts
April 16, 2021
1

found this helpful
Best Answer
This is Antique Monitor Top 100-150 Years Old Trunk or Chest www.thepirateslair.com/2-nautical-pirate-chests-10.html
As I understand it, your suitcase is covered in leather. The photo is not of very good quality.
Check if the metal brackets have stamps. By law items such as locks, latches, etc. had to have a patent date (if they are patented). This will help determine the approximate year of manufacture.
I don't know how high your trunk is. If your trunk is no taller than 14", then you can name it Steamer Trunk. Steamer trunk is a trunk, no more than about 14" high (width and length does not matter). This size requirement was one the steamship company's imposed.
To determine the price, I need to know size and more photos, especially of the interior. The price of such trunk in good condition is about $500-800.
Answer

this Question

I have an old antique steamer wardrobe trunk. It is canvas covered and in pretty good condition. I want to know how much I should sell it for.
By Robin from Fresno, CA
Answers

December 13, 2009
4

found this helpful
(I found this) 'Restored' trunk! With that being said, we buy a trunk, put 20 - 30 hours of work, buy parts and materials as needed, and supplies to finish the trunk, and then sell it. Our average price for a trunk currently ranges from $350 to $600 including shipping. Shipping usually costs us an minimum of $100.00 including the box and packing materials. Now you can see that we buy trunks in the $20 - $100 range depending on what the trunks is.
If you are selling an antique trunk, it is like they say, 'condition is everything'. We have a Trunk Valuation page that will help give you some guidelines in trying to value your trunk. I also recommend to look in antique stores, websites, and yes, even ebay for some price ideas, but remember to evenly compare what you have to what you are looking at.
Also, remember that what they actually sell for is what you need to know, not what they are asking for it, as they can ask whatever they want, but that does not mean it is worth that much. Most of all, be realistic. We do not do official appraisals, but we do recommend Brettuns or The Trunk Shop who will do this for a fee.for more info search for"Value of an Antique Steamer Trunk "good luck.

December 14, 2009
0

found this helpful
I seldom get more than $25 for a steamer trunk at one of my auctions.

Julia
Bronze Post Medal for All Time! 146 Posts
December 14, 2009
2

found this helpful
Hi Robin,
We've sold a few nice vintage steamer trunks,and unless you know exactly how the person buying it is going to want it refinished, the best way to sell it is pretty much "as is". Depending on condition and age, they can go from $20 to $100 in "as is" condition. If you are going to advertise it somewhere like eBay or ETSY, you'll need to consider the cost of shipping. That can be a lot more than the trunk's initial cost.
You might try listing it with Craigs List and sell it locally. You may as well sell it locally where the buyer can pick it up
without spending so much at the shipping company. That way, you can even ask more for it.
Most people want an old trunk "dressed up" to fit their own decor, so they'll want to do the work themselves. Unless you'd like to keep the trunk for awhile and enjoy the work that fixing it will require, just sell it "as is".
Hope this helps. Julia in Boca Raton, FL

October 10, 2010
1

found this helpful
I bought mine fore $50 dollars at an estate auction, on one hand full of neat old vintage clothes, on the other hand, absolutely reeking with mildew and had to be cleaned. I think it depends on the market. Garage sale: probably $20. Auction: $50 or maybe more if it's in really top notch shape. Antique store: assuming it's in good condition, probably $100-$140, depending on where you are in the country and how much traffic the antique store gets. It seems like you can charge a little more on the coasts (USA). Ebay: there's alot of competition and you have to consider postage, so I'd say start start at $40 and hope it might go as far as $80 for a standard trunk. I looked and there are some on there going for $400 for buy-it-now, but they're exceptional pieces, and who knows if they'll really sell for that. Craigslist is sort of hit or miss because you have to assume that someone in your area is willing to come and get it. You might be able to go $50 with Craiglist. Good luck.
Read More

Answers

I wanting to sell this but I have no idea what it is worth or what it's even called. Please help me, I need some background information on this item so I can sell it.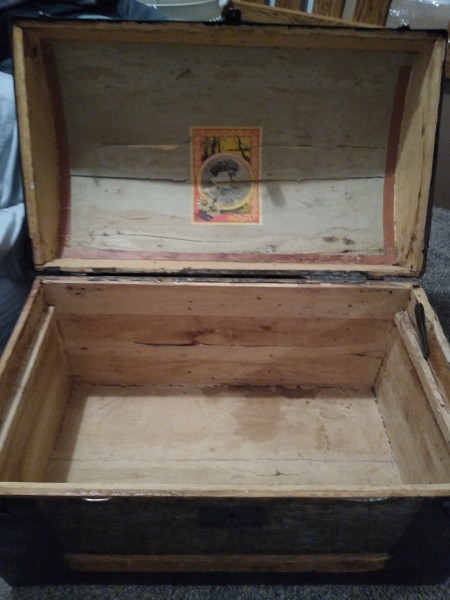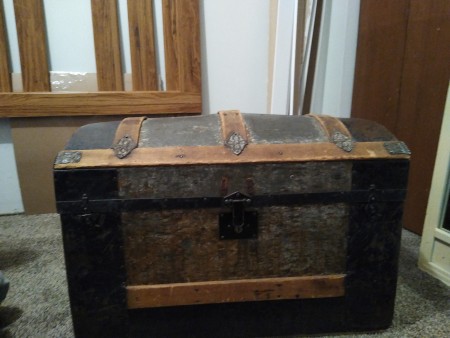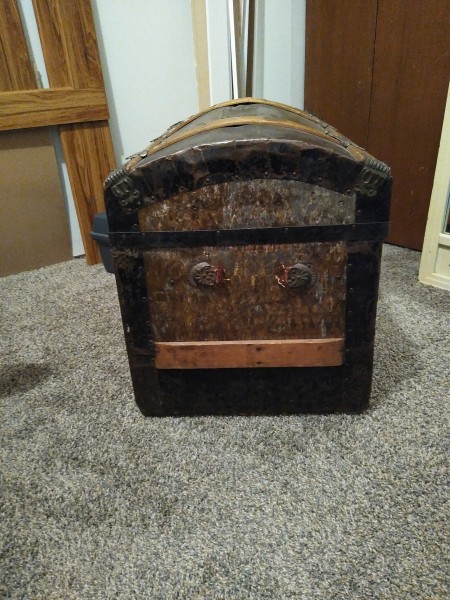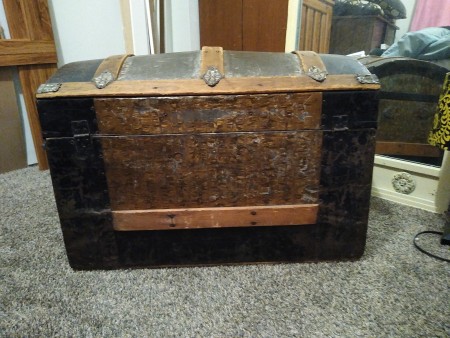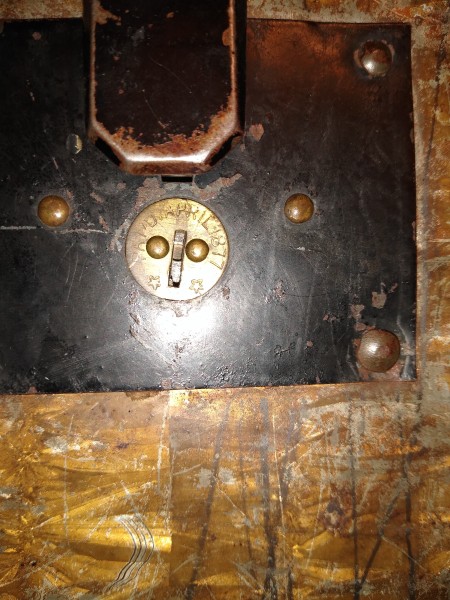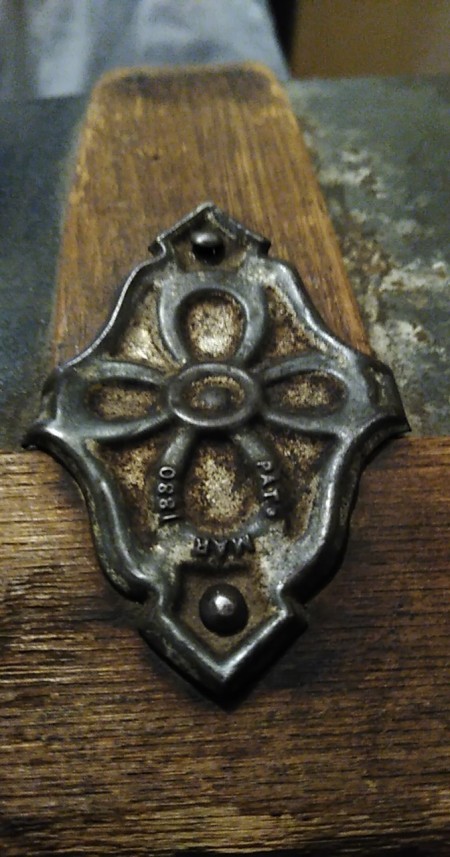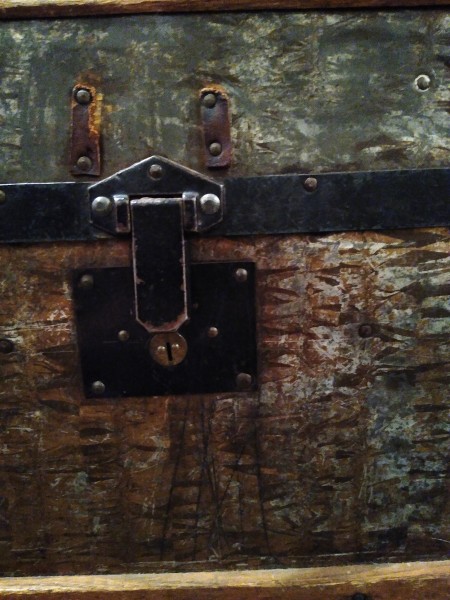 Answers

gggd
Bronze Feedback Medal for 2021. 15 Feedbacks
May 5, 2021
0

found this helpful
Best Answer
I have a few questions to help find more info on this trunk:
1- What are the measurements? Length, width, height, depth inside?
2- Do you have the wooden tray that would rest inside on the rails?
3- Are there any kind of wheels, rollers or feet on the bottom?
4- Do you have the key for the lock?
I found several trunks on various sites that look a lot like yours, but without some measurements, it was hard to match up any for sure. Basic info: this is called a Dome-top Steamer Trunk or sometimes called a Camelback Trunk. They were made for at least 150 years, and in many sizes. The reason for the dome top, was so that when shipped anywhere by ship or train, the rounded top required the trunk to be stacked on TOP of piles of trunks, so that meant less possible damage, RATHER than a flat top piled UNDER other trunks and damaged or crushed----a rather good reason for the design !!! Your trunk has a lock patented April 1877, and the metal emblem at the front end of at least one of the wood strips over the top has a patent of March 1880. That means your trunk is from 1880 at the earliest. This type of trunk was made until at least 1940's. Some of similar or a bit fancier designs that had been FULLY restored, were going for mid to high $100.00's, and a couple fancier were going for over $1,000.00. Here is one listing I found on Ebay:
www.ebay.com/.../154416560417?
If you would post answers to the above questions, I can help find more info for you. Let me know and stay safe and healthy.
Answer

this Question

Trying to find out more information on this trunk. Grandmother came from Poland and ended up in Detroit working at a rectory.
Not sure if she brought it with her or if she had it handed down from her mother.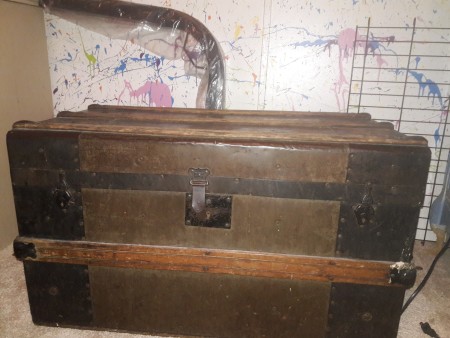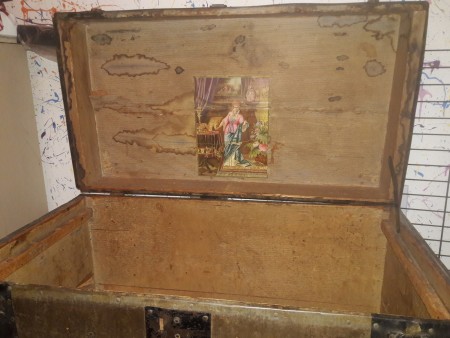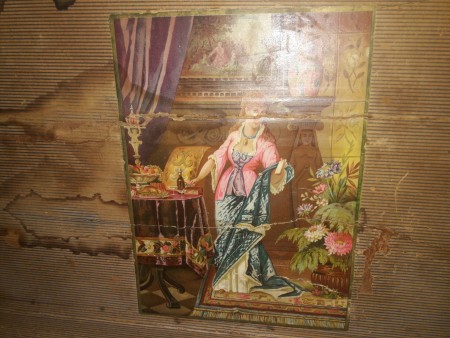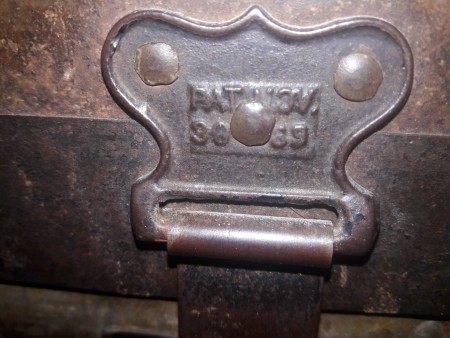 Answers

December 15, 2020
0

found this helpful
Best Answer
Vintage/antique trunks are fascinating in that they have withstood all kinds of abuse they must have taken while being aboard the old ships.
These were called 'steamer' trunks and they are still popular today but most are being sold for small amounts of money as the buyers plan to use them for storage of some kind and many end up in a shed or garage because they are not really nice enough to put on display in their homes.
True antiques and mostly brand names that are in very good condition can sometimes sell for several hundred dollars but since shipping is costly the final value will usually depend on how the area where you are located feels about buying an 'old' trunk.
Some areas good and some are just not interested.
It looks like the pictures probably belonged to someone (maybe your grandmother) and had it folded for a long time and then glued it to the inside lid of the trunk.
I can only say that you should try and get information from people who really know about trunks as occasionally a valuable ones turns up. I have listed several sites that may be able to help you. Some of these site are very good but it's best to ask your questions on several sites so you can hopefully get more information. You will have to join first.
iantiqueonline.ning.com/.../forum
trapperman.com/.../Antique_trunk
www.antiquers.com/.../
forums.aaca.org/.../
www.brettunsvillage.com/.../
antiquetrunksandchests.com/.../
Another suggestion:
If you can read the patent number you might be able to find it on one of these sites. These numbers are difficult to read so you might have to try several different numbers.
www.google.com/search?client=firefox-b-1-d&q=search...
instappraisal.com/.../eveleigh-baggage-trunk-canada-eagle...
You may find some useful on this link:
www.thriftyfun.com/Finding-the-Value-of-an-Old-Trunk...
Answer

this Question