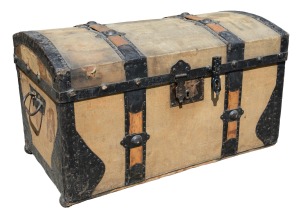 Do you have an old trunk somewhere up in your attic, gathering dust because years ago some imbecile flipped the lid up hard and bent the hinges outwards? All you need to repair it is some braided high-test fishing line (the heavier stuff) and a staple gun.
Cut two pieces of the fishing line (about two feet per side, depending on the size of your trunk) and staple one end to the inner side of the lid, near the front. Leave about an inch sticking out from the other side of the staple, then fold it over and staple both the long end and the inch-long end, about a quarter-inch from the other staple. Repeat this on the other side.
Now, do the same thing on the inside ends of the trunk, also near the front, about an inch from the front walls, just like the top end.
Now your previously forgotten trunk will work fine, regardless of how decrepit the hinges are. If they are still attached, (even by a hair), your trunk will now function properly, provided you have done it right.
P.S. Try to get the lengths and positions the same on both ends of the trunk or your fix won't work too well.
By Paul from Walnutport, PA
Read More

Comments

I have just purchased this lovely old trunk. I really don't know that much about it, but want to get it cleaned up. Can anybody help me please? I do want to do the inside too, but it's the outside I'm more concerned about. I think it's wicker underneath, not sure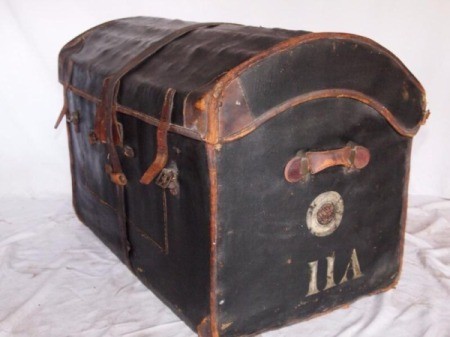 Many thanks.
Answers

June 16, 2015
0

found this helpful
I collect these, Jane, and love them for not only room accents but also functionality (one for Christmas decorations, one for gift wrap and bags, one for board games ... you get my drift). They've come from various places and sources, one from an uncle who thought it pretty cool to add a coat of paint.
It doesn't look bad, but I prefer the authenticity of those which were merely cleaned up. They are genuine antiques and by restoring you may be diminishing the value. So ... my advice? Clean it up as best you can, find out more about its origin and enjoy it as a conversation starter in your home.

June 16, 2015
0

found this helpful
If you do anything to it, you will destroy it's value as an antique. Just use a soft cloth and elbow grease...no cleaning products.

June 17, 2015
0

found this helpful
Hi, sorry I think you have the wrong idea of what I meant 'restoring'. I want to keep the originality there as much as possible. I just want to know the best products to give it a little life again as it's pretty filthy.
I've found out a little more, Of wicker with heavy black tar cloth covering and leather and brass fittings. So what should I use to bring the cloth and leather up? Any ideas?;-)

June 22, 2015
0

found this helpful
Keep your old trunk as it is as much as you can tolerate. I would only dust it. Look for ways to lightly "clean" old wood or whatever material you think it is made from. I believe you can find your answer on Pinterest.com. If you do a lot of cleaning, you will devalue it. You sorta have to learn to like the dirt, I think. lol

May 15, 2019
0

found this helpful
Hi. I may be late to the party, but I thought I'd add my two cents(4 years late). There is a spray cleaner by Indigo Wild called Zum Clean Counter Cleaner. It is an all natural cleaner made with essential oils. I have used this cleaner to remove the dirt & grime from oil & acrylic paintings with great success.
It is gentle & the essential oils help clean canvas & leather without drying it out. I have even used it on my leather purses & boots. I pretty much use it to clean everything, including my floors. If you haven't found what you were looking for to clean up the surfaces of your trunk, this may be what you need.

June 23, 2021
0

found this helpful
Some purist collectors want an item as found, untouched. If you do not EVER plan on selling it, you might try a damp T-shirt rag and a small amount of Murphy's oil soap used sparingly on the cloth. Do NOT scrub. Experiment on the bottom where it won't show. Rinse gently with the damp T-shirt. This will NOT make it look brand new, it will still be an antique.
Then there are products to restore old leather. If the leather is crumbly or powdery, do not mess with it. It's beyond help. Otherwise, neatsfoot oil is good for leather. maybe contact a local museum that does conservation and ask them. They would be the best reference.
Answer

this Question

I have a trunk with bubble corner hardware on every corner. Every bubble is dented, but solidly still attached. Should I just clean them up or replace with new hardware.
It's a canvas trunk that's in pretty good shape, but has a broken lock and handles.
Answers

Judy
Gold Post Medal for All Time! 677 Posts
May 9, 2019
0

found this helpful
I would compare prices of damaged trunks versus trunks in better condition, and the cost to get it in good condition. That will make the decision whether or not to repair clearer.

Pghgirl40
Bronze Feedback Medal for All Time! 196 Feedbacks
May 9, 2019
0

found this helpful
If it is a trunk with huge sentimental value and you are planning to use and love it, then I would fix it up. If you are thinking of fixing to resell, it would take a lot of research to find the true market value for sales and then figure out if a repair would increase or decrease the value. That is a whole other can of worms.
Post back with more info!!

coville123
Silver Post Medal for All Time! 433 Posts
May 10, 2019
0

found this helpful
I would replace the lock and handles.As for the corners just clean them up.It will give it a little character.
Answer

this Question