October 2, 2008
0

found this helpful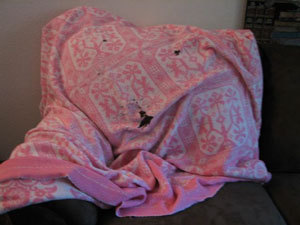 I have a pink and white old fashioned design twin size blanket that I've had since age of eight in 1963. Guess you could call her a sort of baby blanket ;-) Anyway, she is threadbare now with a few holes (one large and the other handful are small). The binding came off years and years ago. I just can't bring myself to dispose of her because of all the memories she brings.

Yet am afraid to use her anymore even just to snuggle on the sofa because she's become so delicate that she just sits on the shelf in the closet. Any ideas what to do with her or how to possibly restore so she's not closet bound anymore?
Deeli from Richland, WA
Answers
October 2, 2008
0

found this helpful
Best Answer
I zoomed in but can not tell by the photo what type fabric it is made of? But I would do as the post by Glenn's Mom suggest and cut it into squares and make a rag item out of it. Ragged items are very popular now and can be done into rag purses, totes, table runners, or in this case you used it to stay warm you could make a ragged throw from it.
I saw its pink & white so you must like pink and it has a squared off design to it in sections. So just cut out as many of those squared design from your loving old quilt as you can that are not torn and then get fabric that is comfy to match in solid pinks and even white like flannel or fleece and cut them the size of your squares from your old quilt and follow the directions for doing a ragged design and you will end up with a beautiful new lap throw or what ever you choose, and can pass it along as a treasure to your loved ones like kids etc.
The ragged look it raw selvages but is so pretty and country looking. here is a site that tells how to do it.
quilting.about.com/.../rag_quilt.htm
By Pat Eno. (Guest Post)
October 4, 2008
1

found this helpful
Best Answer
I think that I would purchase a lightweight blanket or flannel sheet in pink or white and use this to reinforce the childhood blanket. Lay the two on the floor or a bed together, pin around the edges and sew together all around. You can then stitch around the holes to the reinforcing blanket so these will not grow larger. I would tie the two layer together with heavy pearl cotton or yarn at intervals of 5" or so. The blanket would not look elegant or new, but should be usable and this shouldn't change any of the special feeling that you have when you use it.
October 13, 2008
0

found this helpful
Best Answer
I, myself, would purchase a fleece or flannel backing and use fusible webbing (Wonder Under) to adhere both pieces together using a hot iron and a damp cloth as you are fusing. Find a material as close as you can possible find to match the blanket and cut slightly larger than the holes, place between the blanket and the backing. Adhere those first, then iron (fuse) the rest of the blanket, working from inside to outside edges.
Just to be on the safe side because flannel has a tendency to stick to hot iron, use a cotton material to cover the parts of the blanket that the iron may touch where the damp cloth doesn't touch (hope that makes sense) this will protect that blanket. Also another tip, if you pin all of this together ahead of time, this should aid in keeping the blanket and the backing as straight as possible. Should the edges not quite match when you are finished fusing, use seam binding and sew around edges, salvaging as much as you possibly can without cutting any edging off what so ever.
This is really more simple than is sounds. I just made a roller shade using Wonder Under and fused two different fabrics together. It turned out really well. Please let us know what you decided to do and how it turned out for you! Elaine
October 2, 2008
0

found this helpful
I think I would cut in into squares and add squares of either other sentimental fabric or purchase something new and make another quilt.
Read More Answers