I have had this blanket basically my whole life. It is white with pink polka dots. Since I have used this blanket for so long, it has worn down, a lot, to the point where there are holes everywhere. I have read many articles saying that I should just cut it into tiny pieces to keep it as a souvenir.
The seams are starting to come off. The fabric is really delicate because if you hold it up to the light, you can see through it. I want to know if there is anything I could do to fix my blanket.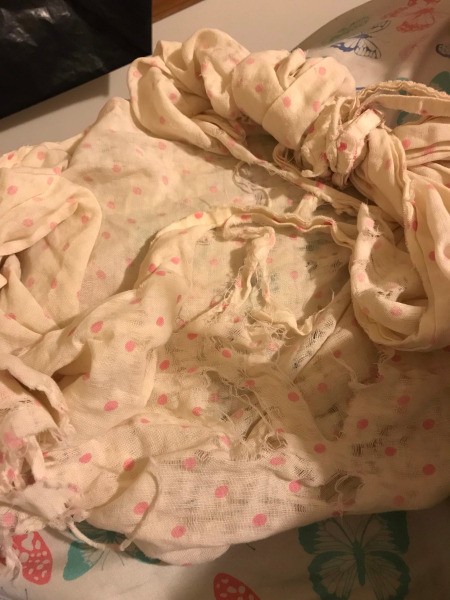 *In the picture I have it tied that way because I don't want the holes to get bigger*
May 10, 2019
1

found this helpful
If you are really crafty and have another item of fabric that you love, you can make appliques and meld the two together. There are lots of fun videos on how to do this on YouTube.
You may be able to do repairs to each hole, but that could take forever and leave the blanket really lumpy. It is always an option.
On YouTube watch a few mending videos. There are some neat techniques out there. There is one that you turn the mend into a flower or leave or other shape. It is very cool.
It depends on how handy you are and how much time you have.
When I was younger, I was big into applique. It made some neat projects!
Hope this gives you some ideas. If you need more ideas, Pinterest may help too!! Blessings!!