So this blanket has a date of 1977 on the corner. It was my mom's when she was a baby and maybe her unborn older brother's first, we are not sure. I've had it my whole life (I'm 14). I've come to terms that it is normal for teens, even adults to have emotional support blankets. I'm prepared to share my life with this blanket, but the thing is, even when I was a new born baby I rubbed in between my fingers, and still do, just not as much. I'm not ashamed of it, but I don't bring it in public.
Anyways, because of the rubbing, there are so many holes. You can tell it on the yellow bear I've rubbed my whole life (the softest part), but I've recently switched to the black bear. I want to preserve it so it lasts longer, but I don't want to cut it up.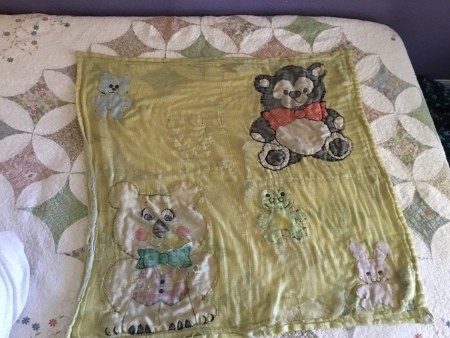 Would it be a good idea to sew new fabric on the back? If so, any fabric ideas? Something not so hard that it is stiff and something not so thin, it breaks easy. Also something soft that I can be comfortable sleeping with.