My roof needs to be repaired. I don't have the money in full, I can do a monthly payment. The third room needs to be completely redone. Since the room has a hole, that room has mold or mildew.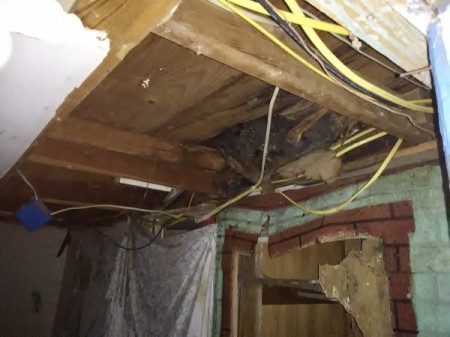 Answers
August 13, 2017
0

found this helpful
Best Answer
I think this depends on your area and where you live. You also might need to put up some sort of collateral before signing a contract. Today, it is hard to fix a roof. The cost is high and people normally don't have that cash on hand.
Is it possible to talk with your bank to get a small home improvement loan for the amount of money it would cost you to fix this roof. Many contractors work on a job to job basis and the material and supplies are paid by each job. Some contractors don't have a large budget and rely on the money they earn from one job to help pay for the next.
Personally, I would try to get a small home improvement loan if possible. Otherwise, try talking with your family and see if they can help you.
You can also call a few contractors for an estimate. When they arrive explain your situation and see if they will work with you on a payment plan.
August 13, 2017
0

found this helpful
Best Answer
Hi there. You might want to contact HUD to see if they can assist:
To find help in your area, call toll free: (800) 767-7468
August 14, 2017
0

found this helpful
Best Answer
Any type of roofing repair is expensive and a down payment would most likely be required along with a pretty hefty monthly payment. Your roof/house looks like it is in very bad condition and it may be difficult to even use it as collateral. If you have a first mortgage that would mean a bank or any lending institution would have a second mortgage as collateral and most would not do that.
A small contractor might help you but probably only small repairs until each was paid off and even that is unlikely.
Larger contractors will go through a lending agency and they would require good credit or sound collateral.
It is difficult to get help through government agencies unless you are a senior, disabled, low income and on some type of government assistance program (food stamps, etc.).
I would suggest you contact Habitat first (to see if you qualify) as they usually act the quickest (give you an answer quickly). Here is a link that you can check for your area.
www.programsforelderly.com/housing-habitat-for-humanity-critical...
You can also check out the suggestions on this government site.
August 14, 2017
0

found this helpful
I can understand your that the need is immediate. You can try contacting habitat for humanity as they help their communities and may know of roofers that will not only complete the job but take payments as well.
Read More Answers