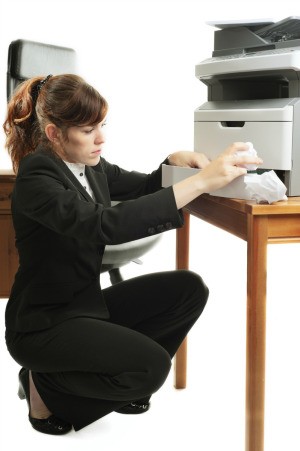 My Windows XP PC suddenly won't print to my HP PSC 2210 printer. I can not print from webpages or emails. I get a "syntax error" message. I can however print test alignment pages, scan, or copy.
Any idea what this syntax error means or how to fix it? Searching the internet didn't help.
By mom-from-missouri from NW Missouri
Answers
February 19, 2010
0

found this helpful
My only suggestion is to reinstall the printer software.
February 19, 2010
0

found this helpful
Have you ask your p c the question"Getting a Syntax Error Message When Trying to Print", if so & you cannot fix it you may need a new printer or take it to a repair place, good luck.
February 20, 2010
0

found this helpful
I have reinstalled the software--twice. I can print from word and pdf.
i only get this message when trying to print a webpage, email or anything that came through on line.
February 21, 2010
0

found this helpful
You may want to check out this tech board:
www.daniweb.com/.../thread20824.html#
It sounds as if it could be simple fixes, like making sure scripting is enabled in your Internet Tools/Properties; or you having two anti virus programs running, creating a conflict ( if that's the case, run only one) or as sinister as something like Hijack or another virus, worm or other creepy crawly in your computer.
Read through the link page for lots more info--good luck.
February 22, 2010
0

found this helpful
There is a site called the "Computer Lady". Here is the site: eboston AT gwi.net. She has saved me more than once.
February 22, 2010
0

found this helpful
Since you mention further in comments that you can print from a Word or PDF document:
What I would do is copy and paste the individual emails or website information you're interested in into a new Word or PDf document until you can find out what the problem is.
Try contacting Dear Webby for the particular problem you're having too :-)
dearwebby@webby.com
March 3, 2010
0

found this helpful
hp-print-diagnostic-utility.software.informer.com
This helped me.
Answer

this Question
Why won't my printer print? I'm trying to print the pattern for yarn dogs made with hangers.

Sybil from Spencer, MA

Answers
December 6, 2006
0

found this helpful
There are several possible reasons.
I suggest you start by turning the printer off, letting it sit a few seconds and turning it back on. Printers have a cache in them, just like pcs and that cache sometimes gets full or corrupt.
Might as well go ahead and turn off your pc too, let it sit a little bit and turn it back on, just to help clear it's cache as well. You can empty temp files too.
If that doesn't work, you may need to re-install your printer driver from the cd that came with your printer. If you do not have that cd, you can usually find a driver at the manufacturers website. They are usually free.
If you were on a mac, this would be much easier for me, so hopefully the steps above will do the trick. If not, try cleaning the head on the printer. When you open up the printer it should have directions under the ild telling you how to clean the print head, as well as how to change the ink cartrages.
If none of this works, maybe someone else can think of something.
Hope it helps,
Tina
December 7, 2006
0

found this helpful
Sybil,
If you still cant get it to print after the re-boots, check all connections to the printer making sure they are still all plugged in. Also, make sure they are not covered in dust as that can make a bad connection as well. If dusty remove the connection and clean out with compressed air then hook back up.
If reinstalling the printer has to be an option.. You may do so by doing the following:
From the START MENU.
Control Panel
Printers and Faxes
Click on the printer to highlight it.
Right click on the printer that is highlighted
Select Delete
Confirm with YES
There should be no printers present.
Under Printer and Faxes Select
ADD PRINTER (if running xp the driver will already
be loaded on your hard drive)
Follow the WIZARD that pops up.
You have more than likely a local printer not a network one.
The rest of the help should be self-explaintory on the wizard.
Good Luck and if you need more help ask away. I am sure one of us can help you!
~Wendola~
July 8, 2020
0

found this helpful
canon.com/ijsetup - Setup the newest 2020 printer drivers for canon.com/ijsetup. start together with your printer download you want to need a legitimate model number.
February 2, 2021
0

found this helpful
I have read your article it is very informative and helpful for me. I admire the valuable information you offer in your articles. Keep these articles coming as they've opened many new doors for me. Thanks for posting it!!
Answer

this Question
My hardware address is showing, MAC, but I have an HP printer. My IP address shows 192.168.1.65. I don't know if that's right? How do I change it back?
By Allen from Chicago, IL
Answers
October 29, 2017
0

found this helpful
You don't need to change it back. On all router the IP address is 192.168.0.1. This is the IP address to log into the router. However, in your case your base IP address of your router is 192.168.1.1.
If the printer is showing up as 192.168.1.65 this is correct. The MAC address is how the router assigns the device a name and a physical location. No need to worry about this at all. It is correct.
Answer

this Question
The cartridge cradle will not move. What can I do?
By dfe

Answers
November 15, 2017
0

found this helpful
It sounds like the ribbon belt that moves the cradle back and forth is jammed or broken. Today, printers are very cheap and it isn't worth repairing this printer. You can normally buy a new printer for around $50. Repairing this older printer will cost you more than buying a new one.
Answer

this Question
My HP 4500 wireless printer will not print. Do I need to reinstall drivers?
By gdominicus56

Answers
April 23, 2013
0

found this helpful
Have you checked that your computer recognises the printer-you may not have enough space to accept the installation. Open 'control' or 'systems preference' for your computer and check to make sure, and also that you have granted permission for the wireless printer to connect to your wi-fi. Then check to make sure your wi-fi is configured to permit connection for the printer.
Next, check to make sure the printer settings on the machine are configured correctly-my HP wireless had several settings that needed to be toggled on at the control panel of the actual printer before it would work.
Another issue could be the usb cord connecting your printer to your ISP, try changing it out with one you know functions. Hard to believe, but those cords do go wonky, especially the older ones with the phone jack type connectors.
After you try all of that, if you are still having problems you may need to completely 'un-install' (that will be in the control or system preferences section) and then do the installation over from step one.
If you still have the disc, it should be a simple 'insert disc, follow wizard' process; if you don't have the disc you can go to the HP site, use the search function to find the support pages for your unit, and follow the instructions there.
Answer

this Question