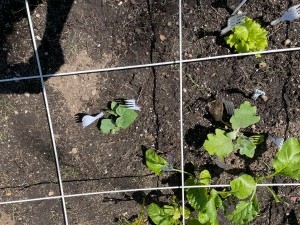 These past two years have been a challenge in the garden because of rabbits. I spent a lot of time and money with commercial sprays and powders. They did not work, even though I reapplied after watering and rain.
I read about inserting forks, tine side up, in a circle around the plant. This has worked beautifully!
This will work for rabbits, squirrels, raccoons and deer. When deer bend down to eat, their nose will touch the tines and they will back off.
Put the forks in a circle around the plant. I used 4 per plant and will add more if necessary. I used plastic forks. You can use metal as well.
I like this hint as it only has to be done once, and you can reuse the forks from year to year.