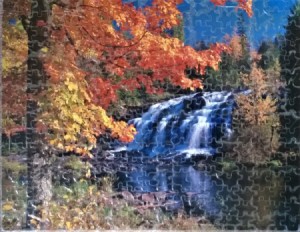 I love to put together puzzles. I only buy what will be done and displayed on my walls. I used to seal the fronts with clear strapping tape and the back with duct tape thinking they would be on my walls forever. Well they lasted a long time but eventually they all began to yellow and crack. So today I had to give some of my favorites to the donation station in our community room.
But, I didn't want to lose the images I loved. So, I shot a good photo of them from right above and will be saving and editing them to print in smaller form.
The puzzles were at the smallest 14" by 16" and the largest was 18" by 24". Now the images are just 8" by 10", ready to frame.
They print out pretty nice. Don't use photo paper if you have an ink jet printer. The ink will turn chalky and rub off. I can then frame and display even more in my home without taking up so much room.
N-JOY!
NOTE: I know the quality won't be as good but if they are images that are important, you may not mind.