I want to make dog clothing but don't know where to find free patterns. I'm thinking of making things such as snoods, coats, etc. Does anyone have any other suggestions for things I can sew in the pet arena?

Many thanks,
Wendy from Hervey Bay, Australia
Answers:
Free Dog Clothing Patterns
I've also been researching sewing for my sister's tiny dog. The first thing you'll need to know is whether the dog is a, X-Sm, Sm, Med, Lg or X-Lg. Here's a chart to help you figure THAT out:
CHART WITH DOG SIZES & MEASUREMENTS: (look to the bottom of the page)
http://www.glamourdog.com/bijoudress.html
HOW TO MEASURE YOUR DOG FOR CLOTHES:
http://www.pawpalaceonline.com/dog-clothes-sizing-chart.php

Once I knew what size I needed, my plan was to buy the size dog dress I needed at Walmart ($8.95) then keep it like new & return it after taking measurements from it. BUT, I decided to instead, take a piece of paper, pen & a measuring tape to Walmart then draw up the dimensions. OR you can bring a large piece of Christmas paper to the store & trace the dog dress.
When you sew, don't forget to allow extra for the seam allowance. If you do choose to purchase an outfit, you can rub a piece of Tin-Foil along the edges to get the exact size (to make you own pattern), then cut out the foil pattern piece & trace it onto the plain back-side of Christmas wrapping paper, don't forget to draw outside the pattern about a half inch (or whatever you choose) for seam allowance.
* I've been sewing without patterns or making patterns off of existing simple clothes for over 30 years, so making up my own patterns & figuring out, 'in what order' to sew them together is no big deal for me. But what I do if I'm unsure of anything is, I use one dollar a yard fabric (Walmart) to make my first outfit, just to see how it will turn out, then use more expensive fabric for my second outfit when I know it turned out.
* A note: Don't let that One Dollar a yard fool you, I've bought some high quality, name brand fabrics at Walmart for only $1 a yard. You just have to keep checking every week or 2 to see what's in stock & check each Walmart, as some have much nicer fabrics than other do, it's "hit or miss" you never know what you'll find!
Sewing for dogs & kids can be as easy or as hard as you want it to be, & sewing without a pattern can also be as easy (or as hard) as you'd like it to be! Remember, when sewing, you can make an entire outfit with just rectangles.
For a child or an adult's shirt can be made with just 4 rectangles total. That's just 2 rectangles (one for the front, & one for the back), with 2 rectangle sewn on to make "dropped" sleeves. Then you cut out the neck opening, cutting the front about 2 or 3 inches lower than the back (checking first if it's big enough to go over their head!). Then either sew on folded over ribbing OR if the fabric is knit, (it won't unravel) just turn the neck down about a half an inch, then zig-zag with either a clear thread or a matching thread color having the "Zig" hit OFF the fabric you've turned over & the "Zag" hit ON to the fabric you've turned over. *How you make the shirt really special is by adding ruffles to the bottom or sleeves or by adding crochet to the edges or appliqué & beads or 'iron-on' rhinestones to the front.
Be daring & make something simple, but classy without a pattern. Once you do, you'll be so proud of yourself, you'll want to do it again & again. (& you'll get better every time!) With the price of patterns these days, I can hardly afford to buy them! So, I sewed most of my 2 daughters clothes all through elementary school without patterns (as described above). It's all about using colorful fabrics & trying the clothes on to the child or your pet often (with each step) as you're making them.
* When you sew for dogs (or children) it's all about comfort, so make sure you use elastic & Velcro in place of anything tight & restraining.
---> Have Fun, Be Daring! and Happy Sewing! (01/22/2008)
By Cyinda
Free Dog Clothing Patterns
You can also go to Goodwill and get children's clothes that fit your dog. Here is my dog in his flannel shirt - he's so adorable, I also have a Chicago Bulls jacket! (01/23/2008)

By Lily 59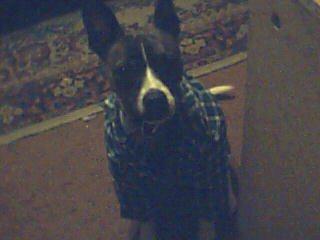 Free Dog Clothing Patterns
Here you go...http://www.freeneedle.com/directory
There are several free patterns,some with tutorials. Scroll down to where it says pets (left side of page). You can also do a search for "sewing tutorials" which brings up lots of sites to make things with picture instructions.
Good luck
Marian from Virginia (01/23/2008)

By Marian Poke
Free Dog Clothing Patterns
Not really about a pattern, but one of my best doggie pals (Bridget the fidget) is at best 3lbs. We have cut the sleeves off sweatshirts. Using the cuff as the neckline, holes for the front legs, and a little ruffle to serve as a skirt. (not to mention the ruffles we fashioned with elastic for four little "bracelets" ) Bridget wiggles about the city with her head held high! lol (01/23/2008)

By momma red
Free Dog Clothing Patterns
You are not going to believe this, but, go to www.freedogclothingpatterns.com
or place in your search engine like Google, yahoo or aol:
crafts, (sewing, crocheting, knitting, etc.) free patterns for animals. It will take you right to the spot. I go to freepatterns.com. (01/23/2008)

By Linda
Free Dog Clothing Patterns
Free Resizable Dog Clothing Pattern
http://www.sewing.circleofcrafters.com/clothinginstructions.html (01/24/2008)

By Cindy D
Free Dog Clothing Patterns
HGTV.com has a cute dress pattern that is easy to make and has detailed instructions with pictures. (03/13/2008)

By Tracy