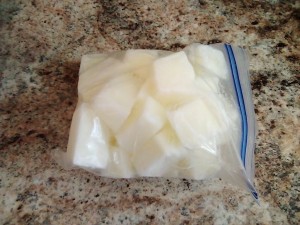 I read several entries here on ThriftyFun for freezing regular milk. I didn't see a mention of buttermilk, so here is my account. I hope you can put it to use.
My local grocer sells buttermilk for $2.79 a half gallon. That's what I pay for a gallon of regular milk. And though Walmart has a great bargain on regular milk ($1.79 per gallon), it's buttermilk costs more than that from my local grocer.
Hard to believe, the last time I went shopping, my neighborhood store had marked their buttermilk down to $.99. I'm baking and freezing cornbread and knew I would eventually use all I bought. I got 5 half gallon cartons, a whopping savings of $8.95.
I froze the milk in ice trays. When thoroughly frozen. I turned the cubes out onto a large platter. From there, working quickly, I transferred the cubes to quart size freezer bags. Easy as pie.
The easiest $8.95 I ever made! I thought I would have to run warm water over the back of the trays to release the cubes, but I didn't. Though I worked quickly, the cubes started to melt just a little. Just enough that I thought they might stick together when placed in the bag.
I solved that problem very easily. I put my platter in the freezer along with the trays of milk. Not one drop melted in my next batch.
Corn is corn. Some people like a light bedtime snack of cornflakes and milk. I had rather have a small bowl of buttermilk cornbread and milk. So easy to take a serving of cornbread from the freezer, nuke it for a minute, pour cold milk over it and FEAST! Surely, something so good wouldn't be contributing to the extra 45 lbs I've acquired. Think so?