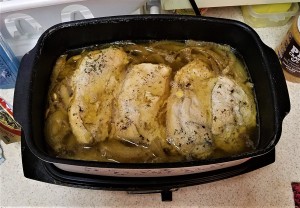 This recipe has only 5 actual ingredients (minus the spices), 6 if you like it a bit thicker by adding spuds. It is delish!

Prep Time: 30 Min
Cook Time: 6 hours
Total Time: 6.5 hours
Yield: 4
Source: Internet but modified this recipe to be simpler.
Ingredients:
1 large white onions
2 skinless, boneless chicken breasts, split
3 cups beef broth
2 Tbsp unsalted butter
1 tsp parsely
1 tsp garlic powder
1 pinch salt/pepper
1 Pkg Idahoan Instant Spuds*
1 butcher knife
1 microwave safe container
1 crock pot
1 paring knife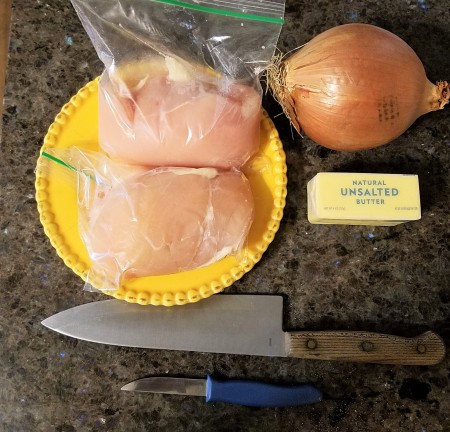 *Optional
Steps:
It's always important to have a safe way to cut anything round. Cooks all agree that it's nice to slice a little bit off of surface, as a place to "set" your onion. Then slice off both ends.

Skin the onion and slice it into smaller pieces. I prefer halves, but you can do the whole ring if you want.

Now line the bottom with the onions. No need to grease anything.

Slice the chicken into 4 halves, lengthwise. Do your spices on both sides and place them on top of the onions.

Melt your 2 Tablespoons of unsalted butter and pour over the chicken. Then add your 3 cups of beef broth. Salt and pepper at the last. Cover and cook on low for 6 hours. You can do this with frozen chicken, but add 2 hours cook time.

I love chicken and spuds. So when the dish was done, I removed the chicken and sprinkled a package of instant spuds into the broth and onions. Once mixed, I put the chicken back in and turned off the crock pot and let it sit, covered. This feeds 4 generously with sides. As a single cook, I ate on it for a couple days. It freezes like a dream! Enjoy!

bryguy
Bronze Feedback Medal for All Time! 167 Feedbacks
June 30, 2020
0

found this helpful
Looks simple and delicious. Can't wait to try it this week. I have two question though. 1) What makes this recipe French, as opposed to just Onion? 2) Where is the microwave safe container used?
As for the butter, is it necessary to melt it first? Can you just put a ½ tablespoon slice of butter over each piece of chicken and let it melt as it cooks?
Also, can you just use a package of French Onion Soup mix and water to replace the onion, butter (the mix has fat), beef broth, and spices? Just sprinkle over the chicken like you'd do with the spices. And perhaps use only 1 cup of water so as not to drown the chicken (since there no onions to elevate them). Thanks for the recipe.

likekinds
Gold Post Medal for All Time! 523 Posts
June 30, 2020
0

found this helpful
Well, Sandy did an improvisation of a recipe found on the Internet. Then bryguy suggested several changes that would serve to improvise Sandy's improvisation.
What with Suum cuique and all that jazz, I couldn't resist my hand here; bearing in mind, my additions might best be thought of as a variation on a theme rather than improvisation.
First, that's a lot of onion. I'm assuming the cook is going for a definite onion and chicken flavor. This is good, but at the expense of another pan to wash, it might be nice to sautée/glaze the onions in butter before adding them to the pot, so as to enhance their flavor.
I would have used chicken broth rather than beef in a chicken dish, but am not discounting using beef here. Perhaps the melding of chicken and beef flavors adds depth and interest to the dish. And I'm wondering if the use of beef broth is what makes it 'French' onion. I think yes.
I don't think I would go so far as to replace the onion with French onion soup mix as bryguy offers. As the name of the recipe suggests, you would expect the dish to contain a hefty portion of actual onion. What with French onion soup mix having salt as its first ingredient (enough to actually burn your lips), natural onion would make it far healthier and more filling.
I didn't see a picture of the finished dish, but for further variation, it might be nice to occasionally have a crusty cheese topping, Swiss, Mozzarella, Parmesan, a mix? If the container is not broiler safe, a torch could be used.

July 1, 2020
1

found this helpful
I think it makes it French because you use a beef broth. Might be a google search for another day. The microwave safe container is for the butter. I don't know if you could use the package to replace everything else. I did google it but was routed to recipes like this one, with even more ingredients like wine and Worcestershire sauce. If you try it with the mix, please let us know if you like it!!

July 1, 2020
0

found this helpful
I like the sounds of the 'original' as well as the variations.
Since my family seems to be hooked on rice maybe I'll try some instant rice instead of spuds (if I can remember to purchase the rice).
I like my onions sauteed also but this sounds like a good 'starter' recipe that can be changed as wanted/needed.
Not sure about the French part but I used beef broth in one recipe because I did not have any bottled or frozen chicken broth and I liked it so this might work also.
Soup mix is very salty so I generally only use a pinch or two in any recipe but I do love Vidalia onions so I'll stick with using a large one.
I feel sure my son will use rice and add a fresh tomato so I'll have to try his and see which is the best.
Thanks Sandy - good choice.