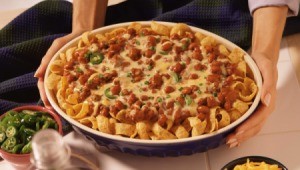 This is a nice alternative to the usual Frito pie with hamburger meat. Grew up with this dish in the 60's. It's sort of a neighborhood block party favorite!
Ingredients:
1 whole chicken
3 ribs celery
1 1/2 onions, chopped, divided
2 (10-oz.) cans of tomato soup
1 (16-oz.) bag of Fritos
12 slices of American cheese
Directions:
Preheat oven to 350 degrees F.
Place chicken in a large pot with 1 onion and celery; cover with water; boil until juices run clear. Remove chicken from broth and when cool enough to handle, debone chicken and shred into bit size pieces; set aside. Strain chicken broth; discard celery and onion; set broth aside.
In a large bowl, combine tomato soup and 2 soup cans of chicken broth; whisk to mix completely.
Line bottom of a 13 x 9 inch pan with Fritos. Cover with half the chicken, half the remaining onion, and half the tomato mixture. cover this with 6 slices of cheese (each lying side by side). Repeat with remaining Fritos, chicken, onion, tomato mixture and cheese. Bake 45 minutes.
Servings:
9
Time:
2 Hours Preparation Time
45 Minutes Cooking Time
Source: The neighborhood moms
By R J from Sugar Land, TX
We were watching Unwrapped on Food Network and they mentioned a Frito Lay pie. Does anyone know about such a meal? I do know it's something from Texas and involves chili with cheese. Thanks for any ideas!
Jodie W from Louisville, Ky
Answers
July 24, 2008
0

found this helpful
We make it with a single serving bag of fritos. Open the bag, spoon in a serving of chili then add cheese, onions, jalapenos, whatever you like. It is easy with little clean up.
July 24, 2008
0

found this helpful
My son used to have a girlfriend who made what she called frito pie. She layered in a cake pan fritoes, canned chili with beans and grated cheddar cheese. Two or three layers with cheese as the top one. Bake at about 350 or 400 till the cheese is melted and it steams when you stick a fork into it. It was delicious! I wish he had married that one! Maybe Food Network or allrecipes.com will have a more coherent recipe.
July 24, 2008
0

found this helpful
The restaurant featured was Cowgirl NYC and the Frito Pie on their menu lists it as: Frito Pie
a Texas tradition. a bag of Fritos® topped with your choice of beef brisket or veggie chili, cheddar, onions, sour cream and jalapeños
There are tons of variations but it is basically chili with cheese and fritos and the other toppers. Some make it in the Fritos bag and some serve it layered in bowl.
Here is the recipe from the Fritos site:
www.fritos.com/.../6
and a few others:
www.hungrybrowser.com/.../m1128M05.htm#4
www.foodnetwork.com/.../index.html
By Pat Owens (Guest Post)
July 25, 2008
0

found this helpful
It is called Frito Pie here in Texas. I make a pot of chili or for a quick meal heat up a can or 2 of chili---with or without beans--your preference. I put some fritos in the bottom of the bowl (I like mine crushed) and then pour chili over it. I layer mine, fritos, chili, cheese, fritos, chili and cheese. My husband just puts fritos on the bottom, lots of chili on top and cheese on top of that. At football games or fundraisers just open a personal size bag of fritos and pour chili in and top with cheese. Hope you enjoy! It is good!
By Becki in Indiana (Guest Post)
July 25, 2008
0

found this helpful
Here in Indiana, if you put all this stuff into the fritos bag and eat it from the bag, it's referred to as a Walking Taco.
By margaret Tx (Guest Post)
July 25, 2008
0

found this helpful
I am from Tx and I love frito lay pie but have you tried chili fries? That's made with fries instead of fritos. Just put your fries on a plate, add chili over them and sprinkle with cheese.
July 26, 2008
0

found this helpful
A local restaurant chain here in TX offers Frito pie (fritos, chili or bbq brisket, shredded cheese, chopped scallions, jalapeno slices, ...) on top of a split piping hot baked potato.
I've had it before. Too many carbs, but yummy. However, you don't have to use the Fritos. You could use tortilla chips (thicker are better) if that's all you have in the pantry. Remember that this is composed right before serving so the chips don't become soggy.
Also, you need to know that this is an addiction in the making. Be forewarned.
July 26, 2008
0

found this helpful
Hi Jodie,
I have a similar recipe but it does not have Chili in it.
Tamale Pie
Ingredients
1 box cornbread mix
1 lb. hamburger
1 pkg. taco mix
1/2 C. water
2 C. crushed Frito chips
1/2 C. sour cream
1 C. shredded cheddar cheese
Directions:
Brown hamburger. mix taco seasoning and water in a jar and add to hambuger according to package directions. Mix cornbread mix in separate bowl then spread to bottom of dish to form crust. Sprinkle with half of the corn chips and add hamburger mixture. Spread sour cream like you're frosting cake. Sprinkle heavliy with cheese and remaining chips. Bake at 375 degrees for 20 minutes.
Note: All these ingredients can also be purchased at dollar or Aldi grocery stores. This recipe is a budget cooking recipe!
Serving Size
4-5
Preparation Time
15 minutes
Cooking Time
20 minutes
By Linda B (Guest Post)
July 26, 2008
0

found this helpful
Ahhh! Frito Pies! Used to order them at the Sonic Drive In all the time. At home, I alternate layers of Fritos/corn chips with chili and top with shredded cheese, chopped onions and sour cream. ( I use low fat or no fat products)-
July 26, 2008
0

found this helpful
I think this might be the one your looking for.
Frito Pie
This was a real favorite when I was a kid (yes, they had Fritos back then), and it still is. With the Frito-Lay Company being based in Dallas, this dish is about as Texan as you can get.
3 cups Fritos corn chips
3/4 cup chopped onion
1 cup grated cheddar cheese
2-1/2 cups chili (your favorite -- homemade, canned, whatever)
Preheat oven to 350°F.
Spread 2 cups of Fritos in a baking dish. Sprinkle half the onion and half the cheese over the Fritos. Pour the chili over the onion and cheese. Sprinkle the remaining Fritos, onion and cheese over the chili.
Bake for 15 or 20 minutes and cheese is bubbly. Serve hot.
www.texascooking.com/.../fritopie.htm
July 27, 2008
0

found this helpful
I am from Texas as well. We make Frito Pie the following way:
1 can of Chili or homemade
1 dozen beef tamales
chopped oinion
Frito Corn Chips
Shredded Cheese
Preheat oven to 350 degrees & grease the bottom of a 9x13" baking dish. Pour a little chili in the botton of baking pan and add tamales. Cover with the remaining chili (we always use extra chili), chopped onions, shredded cheese and then a thick layer of Frito Corn Chips. Bake for 30-45 mintues or until mixture is bubbly.
July 27, 2008
0

found this helpful
My mom came from Oklahoma .. I was born 9 miles from the Texas border. This is one of the recipes that she brought to NC with her. Frito Pie was a quick, easy meal that was also a treat. I just ate some last night!
* 1 can of Armor Star Chili with Beans
* Package of Fritos brand corn chips
* Sharp or Mild Cheddar Cheese, grated
(We always used paper plates making clean up easier)
Heat the chili.
Put a layer of Fritos on the plate, top with the heated chili, and follow with the grated cheese. Absolutely delicious!
Read More

Answers