My family was tired of living in the big city. High taxes, high crime and high cost of living. After many years of scrimping, coupon clipping, yard-saling etc., and just barely making it, we decided to make the big move.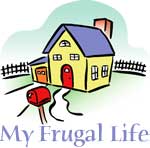 Certainly, we were already living quite frugally. But we found that high taxes and cost of living were eating us alive. We both needed to work full time to pay all the bills and keep ahead of the game.
Finally, we decided to move to a state with a lower cost of living. We sold our small urban home for a large profit and paid $20,000 cash for a lovely three bedroom home in a small rural town.
We realized a yearly savings of about $16,000 by moving. No longer are we paying a state income tax. Our commute to work is 1/2 mile. Prices are lower, so we save when we shop.
Now we both work part time. Our days belong to us and we are able to indulge in even more frugal activities. Our standard of living has actually gone up considerably.
The first of the month is just another day since we got rid of our mortgage. Stress and strain is only a faint memory. I highly recommend that others follow in our footsteps.
Genny from Bridgewater, SD
Do you have a frugal story to share with the ThriftyFun community? Submit your essay here: http://www.thriftyfun.com/post_myfrugallife.ldml
Comments
Read More

Comments