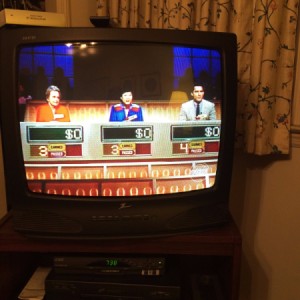 My husband discovered a TV channel that has game shows 24 hours a day. We had a good laugh looking at the outdated hairdos, clothing, and products featured. After the novelty wore off, I discovered a lot of things just by watching the shows:
All of the products, except possibly a diamond watch, are in the landfill now.
My husband and I completely forgot that most of these products ever existed.
My husband and I never bought the majority of them, and we are none the worse for it.
More importantly, the difference in the behavior of frugal and non-frugal people was shown so clearly in these game shows. Only a handful of contestants were satisfied with what they had won, and refused the chance to go on for the chance to win something more valuable.
The rest of the contestants, after the initial euphoria of winning was over, were more than happy to trade away whatever it was they "always wanted" for something else. I watched people trade away cars and considerable amounts of cash.
The competition between the contestants was fierce. This would be understandable on a show where only one person could be the winner, and everyone else went home empty-handed. However, this behavior was exhibited even when each contestant could keep what he or she won.
This got me thinking about everyday life. How often do we become dissatisfied with our fully functioning phones, cars and appliances when a new version with more features comes out? All of a sudden the majority of people "trade up." Do we feel inferior to our neighbors and friends who have the latest things?

We frugal members of the Thrifty Fun community make the most of what we have, not necessarily because we have to, but because we want to. We know that things can never generate happiness, and can easily generate misery if we drown ourselves in debt trying to buy happiness. I know I'm glad to be a frugal person, and I hope that everyone who reads this is as well!
Please note that this TV is from 1987! It still works well, so why should I get rid of it?