Items Needed
clothespin
paperclip
two small rings cut off a toilet paper roll, or just one no thicker than the length of the paper clip
duct tape or any kind of tape
small bunched up pieces of paper to make a ball
This is a way to play basketball for the kids or bored adults. I always have duct tape, I use it for everything. :)
Take the rings you cut off the toilet paper cardboard roll and put them in a paper clip. I used a small one, but you could use a large one. Tape the paper clip with the rings onto the clothespin top, just one of the two pincher parts of the clothespin with duct tape. I did it in a way that the top of the paper clip is closed. Now you can put this basket ball goal anywhere - I put it on a mug for coffee. Just clip the clothespin like you would normally do to put it on a line.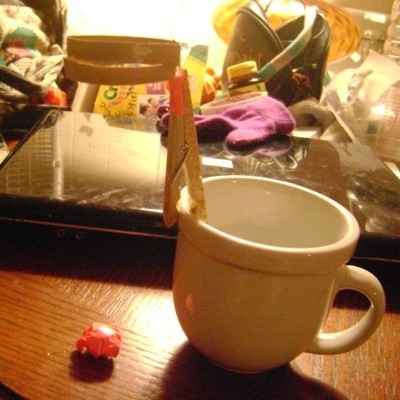 Other Games:
If you turn the clothespin upside down, for instance on the cup, and straddle the clothespin over the edge of the cup, then you can play ring toss with extra rings you can make out of the rest of the tube. You can also play finger basket ball with it in the ring toss position and that way the ball will end up in the cup and not on the floor. Wad up little pieces of paper and throw them through the basket. You could use popcorn or any kind of food.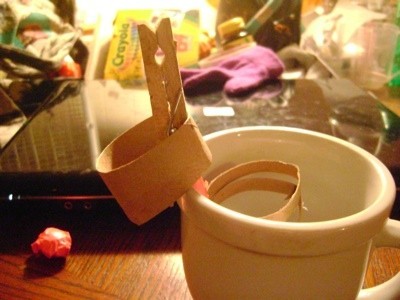 Warning: Make sure the smaller kids don't choke on anything you make to go into the goal. Since the bathroom tissue tube is the main way to tell if any toy in the house is a choking hazard anything that can go through this cardboard tube it is a choking hazard and can go down a child's windpipe. A little tip to go along with this game on how to test toys!
Have fun with it.
By Robyn Fed from Hampton TN