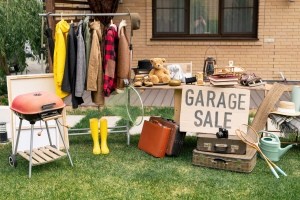 Garage and estate sales are some of the best places for bargain shopping. However, if you are new to yard selling, figuring out how to bargain can be tricky. You may feel like it takes a little boldness to ask the seller to come down on the price; however, it can be rewarding for you both. Here are some tips on negotiating to save money.
5 Tips to Saving Money at Garage Sales
Be Polite and Observant
Always treat the seller with respect and appreciation for opening their yard, garage, or home to you. Be polite and maybe even compliment something you are eyeing to buy. Never speak critically or rudely. When you step onto the driveway of another person's home, you become their guest.

You should also be an observant shopper. Pay attention to prices. If they are already high, the seller probably won't go down much, so it may not be the best place to shop. Pay attention to their demeanor and how they interact with other customers. If they bargain with other shoppers, you have a far better chance of scoring a deal.

Small Money Bills
Go to the bank before shopping so you have money available for the treasures you will find. Bring smaller bills so you have exact change for items with lower prices. Since you plan to save money, you likely won't need larger bills.
Your Budget
Before you offer a price, know your budget for the item. You will often get the product, but there are times when you have to be honest with yourself and accept that the price is too high. Knowing your limits before you begin bargaining will allow you to make the best decision.

Be open-minded with the seller. Don't bargain too far down as it could be seen as an insult. Typically negotiate your price between 10-25% of the asking price and no more than 50% discounted. Accept the price or move on graciously if the seller counters.
Buy In Bulk
Buy in bulk at the yard sale to save the most money. Instead of asking about one item at a time, choose all the items you want, consider the total price, and then give an offer for the lot.
Sellers are always excited to get rid of a large amount of their items. You can typically get a fantastic deal for an entire group, and you will both win in this transaction.
End of Day Shopping
Sellers are looking for people to clear their items by the end of the day. They spend time putting things out on the tables, and the last thing they want to do is bring it all back inside.

The end of the day or weekend is an excellent opportunity for you to make a bargain. Go back to places where you have noted interesting items and ask for a discount. You may strike an even better price for your patience.
Reaping the Benefits
Shopping estate and garage sales can be fun when you know what to look for and negotiate well. Have your money ready, be kind, open to compromise, and have the patience to see the benefits you can reap from shopping one someone else's driveway.