This is a good time to get ready for this years Garage Sale. Go through your closets, the kids toys, kitchen cupboards and your basement/garage or storage areas for items you will be selling.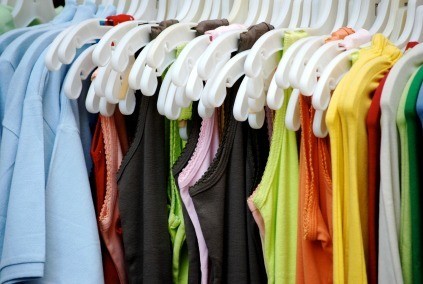 I do this by category starting with clothes. I wash, mend and spot treat items. Use empty boxes (will need to cover in plastic) or bins with lids for storage. I print out labels in my PC using whatever price labels (.25/1.50/$1 etc.) are available and cut, if needed for thriftiness. Remember to add your initials in case your friends or family members want to join in the sale. Then as I sort through everything, I price them as I store them. When I am ready for my sale, I will not need to price them, just unpack and display. Easy peesy!
I always organize the items into functions or rooms so items will be easy to find. Add a hanging rod, just conduit from the hardware store hung between ladders or by string from the garage ceiling. This is for any clothing you can possibly hang. Keep your clothing store hangers for this or buy cheap ones at Walmart for this purpose and store away when done. Just cut a hole in the center with a slit in the side to slide onto your rod with the size written in permanent marker on BOTH sides.
Have some long walls cleared away to hang your artwork and mirrors for sale. Clean any items that need it, you'd be amazed how much more you can get for clean, mended and nicely pressed items. Put sizes on table cloths, draperies etc., people will want to know before they buy the wrong size for their home and it will sell faster.
Always try to have boxes of items for kids, or small change, you'd be amazed at the amount you can make when people only buy the small things. If something is broken show this on label and write "needs repairs" or "for parts only". People appreciate that. Any electronics that don't sell take to the recycled businesses. Toys that don't sell, recycle in your own recycle bins or give to Goodwill.
The week of the sale, clean the garage out. Sweep the floors, put your items at the back and put up sheets or cardboard to separate the sale items from what you want to keep. This will distinguish items for shoppers. My last sale I did this, but to my surprise, two shoppers went around my barricades to grab a garage sale item I had bought myself and had not gotten around to taking the price tag off. So you always seem to have some people who don't know appropriate boundaries, never had that happen before!
Be sure to get enough change before the sale. Two $10 bills, four $5 bills and about ten or fifteen $1 bills, some quarters and other coins depending on your prices.
Make sure you have enough tables set up to display without crowding, people will make messes sorting through your crowded items. Every hour or so, re-fold clothing on tables. This is why I suggest hanging clothing.

Put your best items in prominent places. If possible, make sure large furniture items can stay until the end of the sale to attract others to the sale. Any dresser or cabinets etc in your sale can be used to display items in also. Plug in any radios, TVs or stereos etc. to confirm to shoppers they do work, use appropriate extension cords etc.
When making posters for the sale, you will want them on bright colored posters. Get plenty of boards in case of rain. Nail them to posts or boards snugly and well in case of wind. Write in permanent black marker, large letters and neatly: "garage sale" with the times, address and dates. Make sure to take the signs down promptly to avoid confusion for future sales.
When advertising your sale, list big ticket items first, and popular items such as kids clothing and sizes and garden items or building supplies. Keep it short and sweet, this is cheaper. Make sure to ask your paper if they have a garage sale package, often 3 days for a special price, and do your sale accordingly. Do not open before and don't close down early, I have my biggest sales at the end of the day, after 4pm.
Clerking the sale: always have someone out at the sale, use fans to stay cool or heaters to stay warm, if you must. Do your sale with a friend if you have children, so someone is available to their needs. My son sells frozen water in the really hot sales ($1) and makes about $20 per sale. We buy the cheap water, freeze the night before and bring it out in the cooler an hour or so before opening. You'd be surprised how many people appreciate it and it gives my son an opportunity to learn his counting and social skills.
Never leave your money box or money apron unattended even for a minute. I can't tell you the number of sales I've been to when the box disappears or the children's fund is removed.
Smile! Be friendly, you will sell more and you will get to know your neighbors. Give deals, if someone buys six or more items, I give them a discount of sorts e.g. ten shirts gets $2 off.
Displaying: I line up bright colored toys, large furniture along the sides of my driveway, people want to see a "preview" of your sale before deciding to stop and look. Keep as much inside as possible if it looks like rain is forecasted. Keep clean tarps close by if you can't move things inside. Sell items accordingly. This might be a time to take a loss on that big chair you never liked, so you don't need to move it again. It may not be worth the effort.
Know your prices: know what things cost and price appropriately. Don't put $3 on something that you can buy at walmart for $2, even if it's a premium brand. Chances are no one will spend the money. Don't cheat yourself either, premium items such as Bath and Body Works lotions sell for $10/bottle or tube. I have bought these for as little as .25, unopened. Also if the fragrance is not to your liking, you can return their products for another fragrance even if it's been used. So know what to make money from and what to keep.
Budget for loss. No matter how many people are manning the sale, you will suffer loss. Something will be broken or stolen and you will need to watch; but know it is not totally preventable.
Don't put junk in your sale. People don't want to buy your junk. If it's broken and cannot be fixed at least put it in the free box, if you can't bring yourself to trash it.
Know your own price limits. You may have a large item priced higher because you "know" it will sell for a higher price. If it rains or you are tired of dragging it in the garage at the end of the sale each day, it might be worth lowering the price or taking a lower offer.
Promise yourself you will not carry anything back into your house or garage to store another year. Once you do this it will be easier to take lower offers and chances are you won't miss the item or the money.
Price things at half price the final day or the last half. Don't advertise this or you will have people waiting to buy it cheaper then. Make plans to have a pick up or have hubby take unsold items to a local charity. Don't forget to get a receipt for tax purposes!
Lastly, be sensative to others. If your friend or family member has given you something, be sure to keep it inside until they leave. If you know it won't matter to them, then you may want to keep it in the sale. Also anyone helping you may want their own sale and you can volunteer to help them. Good luck with your sale.