What can I do to get rid of bad breath? I brush and floss and visit my dentist every 3 months. I do drink coffee and tea, so that probably doesn't help. Any easy pointers?
LF from Denver, CO
Answers:
Getting Rid of Bad Breath
Breath Assure gets rid of that not in your mouth type of bad breath. It's parsley oil in gel capsules, it really works for me. You should also check out this blog
http://badbreath-cure.blogspot.com/ (12/30/2008)

By Dian
Getting Rid of Bad Breath
I do all the right things and still have bad breath. Mine is caused by gum disease. I use Oral B Amosan mouthwash as directed 4 times daily, it's especially for gingivitis, Vincents infection, denture irritation, and minor oral infection. Sometimes some of us just have certain gum diseases that brushing, flossing, and the best dental treatment will not work. Also, great for after dental work especially an extraction, stops infection. My hubby cannot take any antibiotics at all. This cleared up the infected teeth, gums and, and near blood poisoning. His teeth had to be removed to stop blood poisoning in it's tracks.
Pretty good job in my books, for more info on oral care visit www.oralb.com. It comes in easy to use single dose and if I can use it a baby can given my severe allergies. If I keep this up daily, no bad breath. Good luck.

Balance Deer Woman (01/05/2009)

By Yetta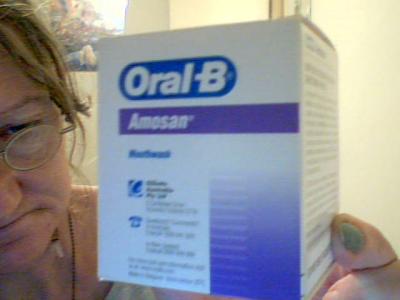 Getting Rid of Bad Breath
Brushing your tongue and the roof of your mouth helps with bad breath, also. (01/05/2009)

Getting Rid of Bad Breath
This won't be the nicest post I have ever done, but it might help a lot of you. The digestive tract is basically a tube that runs from the top to the "bottom". Some folks have breath that smells like, well, feces. I know, I know, but I am just too darned old to say "poop" or "#2", so there you go.

That indicates it is a problem with your bowels, stomach, or yes, GERD, which is Gastro Esophageal Reflux Disorder or GIRD which is just Intestinal instead of Esophageal.
Sometimes, things back up and don't go out the direction they are suppose to.
You may want to get on webmd and find out more. Good luck! (01/05/2009)

Getting Rid of Bad Breath
My husband's dentist gave him a prescription mouth wash for this. Ask your dentist. I wasn't expensive. (01/05/2009)

By Kathy
Getting Rid of Bad Breath
I brush my tongue and my teeth and also use a tongue cleaner/scraper. I did a quick search and found this:

mayoclinic.com (01/05/2009)

By Maryeileen
Getting Rid of Bad Breath
If you have no teeth or gum problems and your oral hygiene is good it is either your diet or perhaps a medication if you take any. When I was young I dated a guy for a long time and he had horrid breath, but when he changed the way he ate the bad breath went away. Everyone's body is different so you'll need to cut out one certain food at a time and see which one(s) are causing this. As PoorButProud said it is probably an issue with the inside of your body. (01/05/2009)

By Deeli
Getting Rid of Bad Breath
Try rinsing with warm water and 3% hydrogen peroxide. It will help take germs away. I also brush with baking soda that I mix with 3% hydrogen peroxide. I worked in the dental field for over 15 years. (01/12/2009)

By meoowmom
Getting Rid of Bad Breath
Drink more water. I have noticed that my breath seems funky when I am not drinking my normal amount of water. I can also tell just by talking to my husband that he hasn't drunk any water that day by the smell of his breath. When I ask him if he's had much water today he says, "no", without fail every time. Try to start adding in more and you might notice a difference. Good luck. (01/16/2009)

By khilde80
Getting Rid of Bad Breath
Get probiotics. Dr. Ohhira's are the best.
Problem is in your intestines. (03/15/2009)

By katnip