Freshly sauteed asparagus spears with ginger, garlic, lemon zest and pepper makes a wonderful seasonal side dish.
Mince ginger and garlic. Wash and trim ends of asparagus. Zest lemon before cutting in half. Remove any seeds from one half. The second half can be used for another recipe.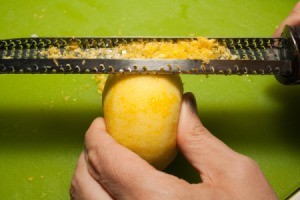 Pre-heat non-stick pan, then add olive oil. Put asparagus in pan and add ginger, garlic and lemon zest. Add salt and pepper to taste. Squeeze 1/2 lemon over mixture. Stir and cover for about 5 minutes, stirring occasionally.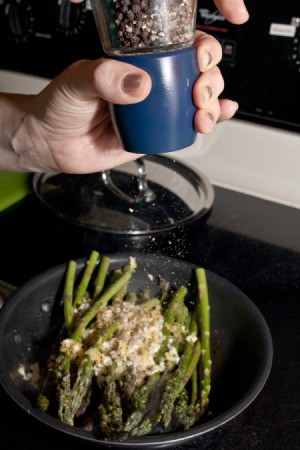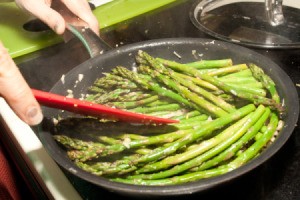 Serve when asparagus is bright green and still tender. Be careful about overcooking. We served it here with a boneless pork chop and some brown rice as part of a healthy dinner.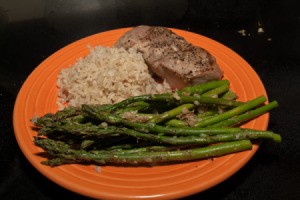 You can substitute the lemon zest and juice for a couple of Tbsp. of soy sauce to give this recipe a more Asian flavor.
I often add fresh herbs or spices to complement my meal, such as Cajun seasoning or rosemary. Salad dressing, mustard or other condiments can also be used to change up this simple dish. You can cook chard, green beans, broccoli or other similar vegetables using this recipe and method.