January 26, 2016
1

found this helpful
I made this for our dessert tonight. I didn't have any whole lemons so I had to leave the zest out.
I buy lemons in bulk and juice them and freeze by tablespoons in an ice tray. Next time I do this, I'll freeze some zest too.
I used 2 tablespoons of lemon juice. I left off the powdered sugar because I'm going to freeze the remainder in serving sizes.
We both enjoyed it and hubby wanted more but I said no.
We try not to eat a lot of sweets so if we are good, we get to eat some more next week and it will be coming from the freezer.
Thanks for sharing your recipe. It's delicious!!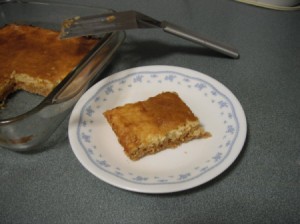 January 26, 2016
0

found this helpful
Adding to my previous comment.
The crust taste like a graham cracker crust. I'll bet the recipe for the crust would be good if you needed a gluten free graham cracker crust for a pie. I'll have to try that.
January 27, 2016
0

found this helpful
Looks tasty! Freezing the lemon zest sounds like a good idea, I will have to try that!
February 19, 2016
1

found this helpful
For those who don't have Bisquick, here is a substitute, according to Wikipedia. If you need to go gluten-free, use rice flour instead of regular flour. If you're lucky enough to have a Chinatown nearby, youcan find rice flour cheap since it's a common ingredient in Chinese cooking,
One cup of Bisquick can be substituted by a mixture of one cup of flour, 1½ teaspoons of baking powder, ½ teaspoon of salt, and 2 1/2 tablespoons of oil or melted butter (or by cutting in 2 1/2 tbsp Crisco or lard).