These are the best lemon bars I've ever tasted. I tweaked the recipe a little to make them gluten free so my mom could enjoy them, too. Easy to make and delicious!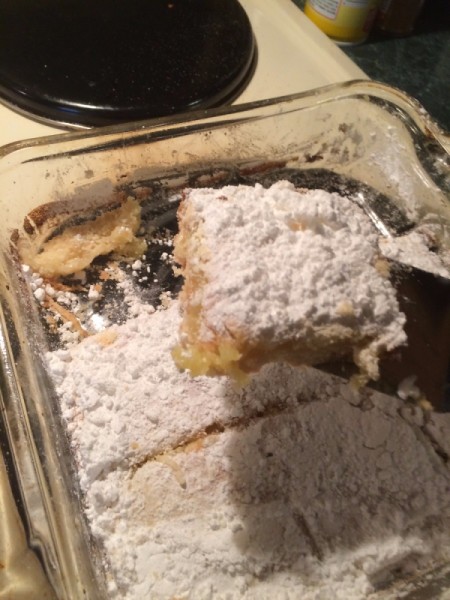 Total Time: 40 minutes
Yield: 9-12 depending on how you cut them
Source: Bethel Methodist Church cookbook
Ingredients:
Crust
1/2 cup butter-softened
1/3 cup sugar
1 cup gluten free Bisquick
Pam cooking spray
Filling
3/4 cup sugar
2 eggs
3 Tbsp gluten free Bisquick
zest from 1 large lemon
juice from 1 large lemon
Topping
powdered sugar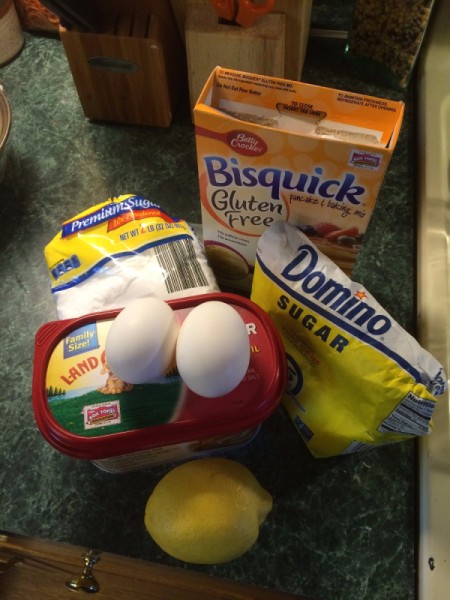 Steps:
Combine softened butter, sugar and gluten free Bisquick in a bowl and mix together until it resembles coarse crumbs.
Spray a 9x9 inch baking dish with Pam. Be sure to get the sides sprayed well too.
Press crumb mixture into the bottom of dish. Pack down well, especially around the edges.
Bake this at 350 degrees F for 15-17 minutes until edges are brown.
While this is cooking mix the eggs, sugar and Bisquick together in a bowl. Grate lemon peel from a large lemon and then juice the lemon and add to mixture. Beat on medium speed until blended.
Once the crust is finished cooking, pour the wet mixture on top of crust. Be sure to stir the mixture up real good right before pouring over crust.
Return to oven and continue baking until top is golden; about 20 minutes.
When done remove from oven and sprinkle with powdered sugar. While still hot, take a spatula and gently go around the edges of the dish. This will make removal easier once it has cooled.
Once it is cooled, cut into squares and enjoy!
Comments
January 26, 2016
1

found this helpful
I made this for our dessert tonight. I didn't have any whole lemons so I had to leave the zest out.
I buy lemons in bulk and juice them and freeze by tablespoons in an ice tray. Next time I do this, I'll freeze some zest too.
I used 2 tablespoons of lemon juice. I left off the powdered sugar because I'm going to freeze the remainder in serving sizes.
We both enjoyed it and hubby wanted more but I said no.
We try not to eat a lot of sweets so if we are good, we get to eat some more next week and it will be coming from the freezer.
Thanks for sharing your recipe. It's delicious!!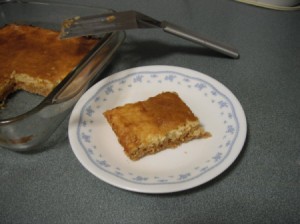 January 26, 2016
0

found this helpful
Adding to my previous comment.
The crust taste like a graham cracker crust. I'll bet the recipe for the crust would be good if you needed a gluten free graham cracker crust for a pie. I'll have to try that.
January 27, 2016
0

found this helpful
Looks tasty! Freezing the lemon zest sounds like a good idea, I will have to try that!
February 19, 2016
1

found this helpful
For those who don't have Bisquick, here is a substitute, according to Wikipedia. If you need to go gluten-free, use rice flour instead of regular flour. If you're lucky enough to have a Chinatown nearby, youcan find rice flour cheap since it's a common ingredient in Chinese cooking,
One cup of Bisquick can be substituted by a mixture of one cup of flour, 1½ teaspoons of baking powder, ½ teaspoon of salt, and 2 1/2 tablespoons of oil or melted butter (or by cutting in 2 1/2 tbsp Crisco or lard).