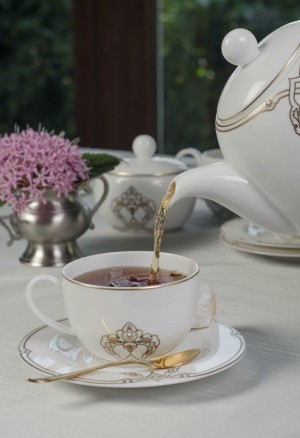 Our church sponsored its Rainbow Tea and we chose Gold to symbolize the pot of Gold at the end of the rainbow. We created a centerpiece using a medium size gold brass pot. We purchased gold ribbons about 3/4 inch in width.
We used a white craft pen and wrote 8 (number of seats at table) of the spiritual treasures that can be found in the pot at the end of a spiritual rainbow, they included: Love, Joy, Peace, Hope, Prayer, Faith, Grace, and Eternal Life. We wrote two treasures per 4 ribbons (a treasure at each end of the ribbon) The ribbons were placed in the pot and extended out to each place setting.
We filled the pot with gold jewelry boxes that contained ceramic hearts that we found for .99 which had the name of one of the treasures already on it.
Then we used tiny artificial flowers tucked in between the gift boxes to make a beautiful centerpiece. We added gold charger plates under each plate and copied CD's with Jill Scott's "Golden" and placed at each setting. The Ladies were pleased to be able to take a gift from the pot as a thank you favor when the tea was over.
By Doll from Columbus, OH